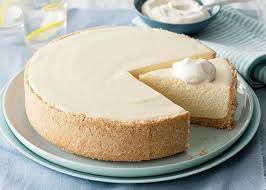 Creamy Cheesecake
Ingredients: For the crust: 1 1/2 cups graham cracker crumbs 1/4 cup granulated sugar 1/2 cup unsalted butter, melted For the filling: 3 packages (8 ounces each) Philadelphia Cream Cheese, softened 1 cup granulated sugar 1 teaspoon vanilla extract 3 large eggs For the topping: 1 cup sour cream 2 tablespoons granulated sugar 1/2 teaspoon vanilla extract Instructions: Preheat your oven to 325°F (163°C). In a mixing bowl, combine the graham cracker crumbs, granulated sugar, and melted butter for the crust. Stir until the mixture resembles wet sand.
Press the crust mixture into the bottom of a 9-inch springform pan, making sure to press it firmly and evenly. Set aside. In a separate mixing bowl, beat the softened cream cheese, granulated sugar, and vanilla extract until smooth and creamy. Add the eggs, one at a time, beating well after each addition. Scrape down the sides of the bowl as needed. Pour the cream cheese filling over the prepared crust in the springform pan. Smooth the top with a spatula. Bake the cheesecake in the preheated oven for about 50-60 minutes, or until the center is set and the edges are lightly golden. The center should still have a slight jiggle. While the cheesecake is baking, prepare the topping. In a small bowl, whisk together the sour cream, granulated sugar, and vanilla extract until well combined. Remove the cheesecake from the oven and spread the sour cream topping evenly over the surface. Return the cheesecake to the oven and bake for an additional 5 minutes.
Remove the cheesecake from the oven and let it cool completely in the pan on a wire rack. Once cooled, refrigerate the cheesecake for at least 4 hours, preferably overnight, to allow it to set. Prior to serving, run a knife around the edge of the springform pan to loosen the cheesecake. Remove the sides of the pan. Slice and serve the creamy cheesecake chilled. You can garnish it with fresh fruit, chocolate shavings, or a drizzle of caramel or chocolate sauce if desired. Enjoy your homemade creamy cheesecake made with Philadelphia Cream Cheese!