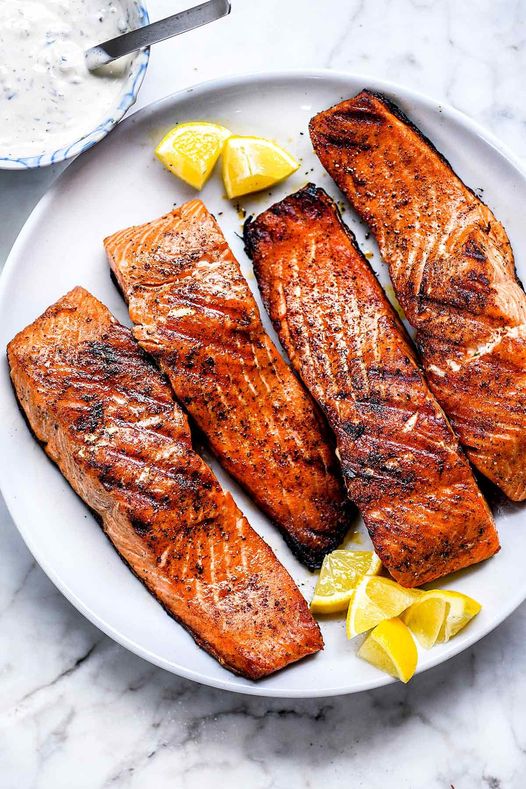 Grilled Salmon Ingredients
A kilogram and a quarter of fresh salmon. Two cups of finely chopped fresh dill. Three quarters of a cup of sugar. Two tablespoons of cooking cream. Two onions, medium size, finely chopped. Six sweet potatoes, medium size. Juice of a lemon. A tablespoon of butter. A tablespoon of vegetable oil. Two cubes of chicken broth. A teaspoon of starch. Two tablespoons of apple cider vinegar. Two tablespoons of soy sauce. Two teaspoons of yellow mustard seeds. Two tablespoons of mustard. One hundred grams of coarse salt. Half a teaspoon of black pepper. Two cups of water. For garnish: some spinach leaves, lettuce, and watercress.
Method of preparation Put the salmon in a bowl and add sugar, salt, a pinch of black pepper, and one cup of dill, and let it soak for two days. Put the potatoes in a baking tray, then put them in the oven until they are completely cooked. Carefully cut the roasted potatoes in half, then remove the potato core with a spoon, keeping the peel. Add to the potato pulp the butter, cream, a cup of dill, and a cube of chicken broth and stir well. Put the potato pulp back into the pits. Cut the salmon as desired, then put it in a hot pan from the skin side until it turns golden, then remove it from the heat.
We put the oil on the fire, add the onions and stir until it wilts, then add the water, the second stock cube, starch, mustard, mustard seeds, soy sauce, lemon juice, apple cider vinegar, water and stir until the sauce becomes thick. Put the salmon in a serving dish and put the potatoes on its side, then pour the sauce and serve the dish with lettuce, arugula, and spinach.