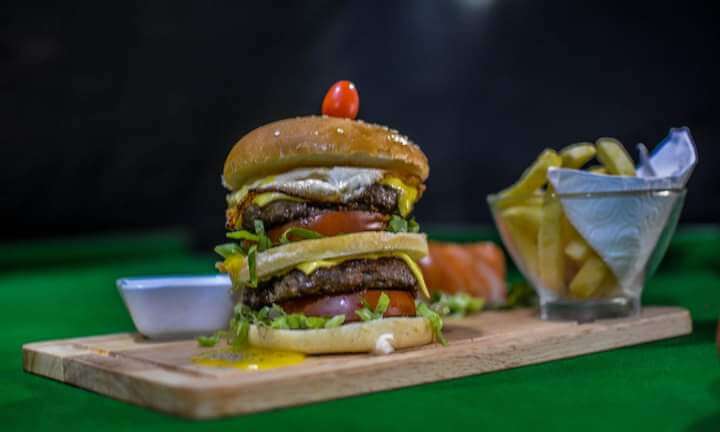 How to make a delicious double cheeseburger sandwich recipe
How to make a delicious double cheeseburger sandwich recipe
Ingredients
150 gm gouda cheese
4 whole-grain burger loaves, halved and toasted
1/2 cup ketchup
4 onions, sliced
2 torn lettuce leaves
1 tablespoon sugar
1 tablespoon olive oil
1 tablespoon balsamic vinegar
olive oil
Oven baked potatoes, to serve
Beef burger ingredients
500gm minced beef
1/3 cup milk
1/4 cup chopped parsley leaves
2 slices of white toast, peels removed
1 tablespoon Worcestershire sauce
1 tablespoon Dijon mustard
2 teaspoons minced thyme leaves
Preparation steps
Make your family and children enjoy the most delicious and delicious fast and light meals at home. Here's a double cheeseburger with a distinctive and wonderful taste, and here's the way.
Preparing a double cheeseburger
Stir the oil with the onions in a heated dish and place in the microwave covered on maximum power (100%) for 5 minutes or until softened, then add the sugar and vinegar and set aside.
Cut eight cubes of 2 cm from the cheese and grate the rest of the cheese and set it aside and press 2 cheese cubes in the middle of each beef burger and each burger forms a patty of 2 cm thickness and put it on a plate, cover and put in the refrigerator for 20 minutes.
Heat a grill over a high heat, paint the burger with oil, put the onion and burger mixture on the grill, and cook the onions for 6 minutes and the burgers for 5 minutes until it becomes golden .
Spread the ketchup on the bread bases, put lettuce, burger, grated cheese and onions on top of them, and place the tops of the bread on them, and the sandwich is sealed with a toothpick.
Beef burger method
Stir milk, breadcrumbs, meat, Worcestershire sauce, mustard, thyme and parsley in a large bowl, mix well and divide the mixture into 4 parts.
Suggestions for double cheeseburger
Use normal fat minced meat, which gives more flavor and holds better than lean meat, and do not press on the minced meat mixture to form the burger. This will make the burger thick and heavy. Then, wet your hands first with water and gently shape the mixture into pancakes.
Served double cheeseburger with french fries.