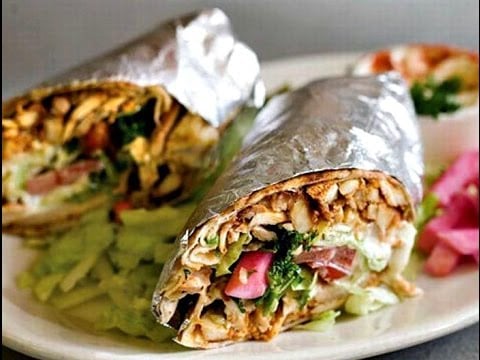 How to make shawarma rolls
delicious shawarma rolls recipe
Ingredients
4 pieces of chicken breast.a cup of milktablespoon tomato molasses3 cloves garlic, crushed.Sliced ​​lemon.3 tablespoons lemon juice.teaspoon crushed cardamomteaspoon crushed gingerTeaspoon white pepper.Teaspoon salt.4 tablespoons of vegetable oil.4 pickled cucumber slices.5 pieces of Arabic bread.A little pomegranate molasses.Garlic Shawarma Sauce Ingredients:A large cup of vegetable oil.Two egg whites.Teaspoon salt.A tablespoon of white vinegar.A tablespoon of lemon juice.
2 cloves garlic mashed.How to prepareSauce:Put the egg whites in the electric mixer and turn it at a medium speed and start adding the oil slowly until the mixture becomes thick, then add salt, vinegar, lemon juice, garlic, white pepper and so the sauce is ready.Shawarma:Cut the chicken into soft slices, put them in a bowl, add the oil, yogurt, tomato molasses, lemon juice and mashed garlic. Add ginger, cardamom, pepper and salt, stir the mixture, then cover with lemon slicesCover the bowl with tin foil and put it in the fridge for an hour.
After an hour, we take out the bowl from the refrigerator, heat a little oil in a frying pan, add the mixture and stir until it becomes golden.Finally, we put a piece of charcoal on the fire, then put it in a tin foil, put it in the shawarma pan, pour a little oil on it, then cover the pan quickly so that the shawarma acquires the flavor of charcoal. So we are ready to roll the sandwich.We take a loaf of bread, put in it a tablespoon of garlic sauce, some pickled slices, a little pomegranate molasses, and the chicken shawarma mixture, wrap it, heat it, cut it and serve with fresh vegetables. Thus, we have prepared delicious and healthy shawarma rolls.