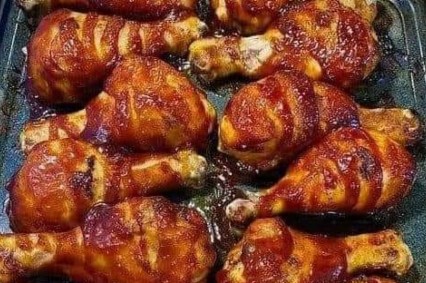 Ingredients:
• 1 package ranch dressing
• 1/2 tsp cayenne pepper
• 4 to 5 drops of hot sauce
• 1/2 C all-purpose flour
• 1 tsp cornstarch
• 5 to 6 chicken legs
• 1/2 tsp paprika
• 1 cup pickle juice
• 1 C. buttermilk
• 1 cup vegetable oil
• 1 cup butter
PREPARATION:
Whisk together buttermilk, pickle juice and hot sauce. Place the chicken in a waterproof container and pour the buttermilk mixture over the chicken and refrigerate for 2 hours. Using a ziploc bag, combine flour, ranch mix and seasonings. Placing oil and butter in bottom of iron skillet & placing in theoven. Preheat the oven to 425 degrees allowing the oil and butter to heat while the oven preheats. Once the oil is good and hot, remove the pan and take each chicken leg and shake in the flour mixture and using pliers to remove, shake off excess flour and place in the pan. Here you will sizzle a little, repeat with the rest of the chicken. Bake for 35-45 minutes, turning the chicken about every 10 minutes to brown on all sides. The cooking time will depend on the size of the chicken thighs you use, just check with a meat thermometer to reach 160 degrees. Place the chicken in a paper bag or a plate lined with towels. Let stand 5 minutes before serving.
Enjoy !