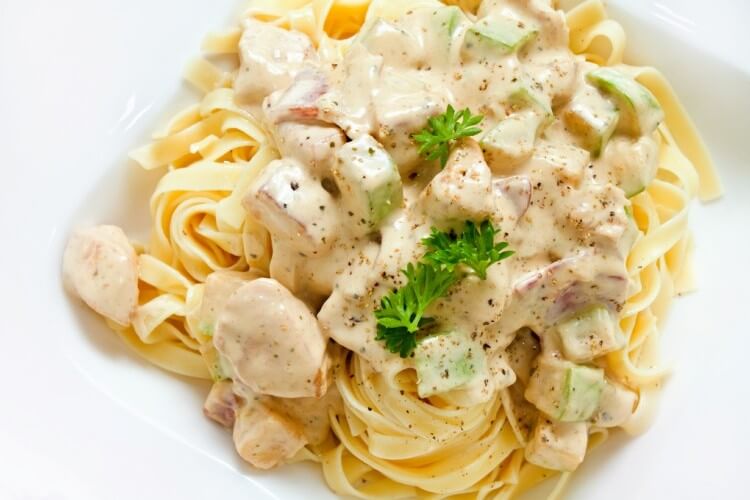 Pasta with white sauce and diet chicken
Pasta with white sauce and diet chicken
Ingredients
Macaroni: 500 grams
Chicken breast: 500 grams (cut into cubes)
White onion: 1 piece (medium size / cut into small pieces)
Cooking cream: 500 grams (low-fat)
Vegetable oil: half a tablespoon
Salt: a pinch
Black pepper: a pinch
Cinnamon: a sprinkle
Ginger: half a teaspoon
How to prepare
Put the pasta boiling water in a medium-sized pot, and when the water boils, put a quarter of a spoonful of salt and put the pasta. Be careful not to add oil to the pasta boiling water. Leave the pasta until halfway done for 4 minutes. After that, turn off the fire, filter the pasta, and wash it under water if it is pasta. The used pasta is regular pasta, but if it is pasta intended for diet, it is filtered without washing.
Bring a pot and put it on the fire on a high temperature, add half a tablespoon of oil and leave it until the temperature of the pot rises, then add the chicken cubes on a high heat without stirring until the side adjacent to the pot turns golden, so the chicken is in a state of shock and retains its liquids inside it and is done After that stirring, put the onions and stir the mixture well until the level, then add salt, ginger and cinnamon and stir well.
Add half a cup of the diet cream for cooking to the cooked chicken and leave it on a low heat for two minutes. Add the boiled pasta and black pepper, stir the mixture well, turn off the heat, put the pasta in a serving bowl, decorate it with parsley and eat it warm.