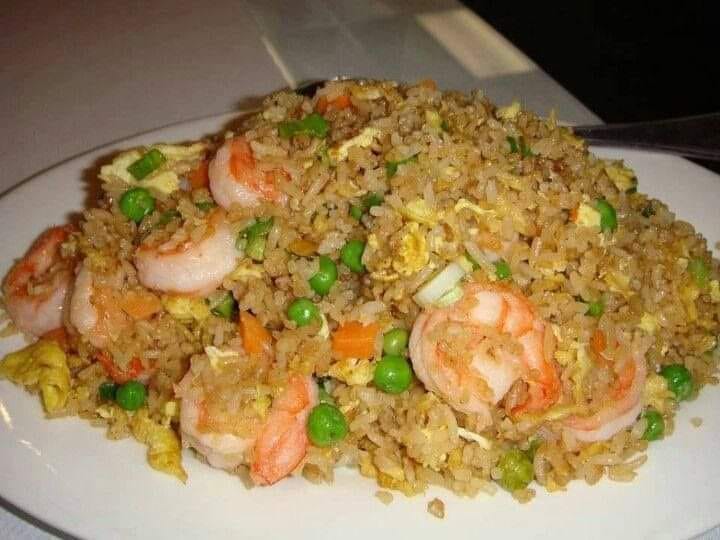 Ingredients: 1 cup uncooked long-grain white rice 1 pound (450g) medium shrimp, peeled and deveined 2 tablespoons vegetable oil, divided 2 cloves garlic, minced 1 small onion, diced 1 cup mixed vegetables (carrots, peas, corn, etc.), fresh or frozen 2-3 tablespoons soy sauce 2 eggs, lightly beaten Salt and pepper to taste Optional: chopped green onions for garnish
Instructions:
Cook the rice according to the package instructions. Once cooked, spread it out on a baking sheet or a large plate to cool and prevent it from becoming too sticky.
In a large skillet or wok, heat 1 tablespoon of vegetable oil over medium-high heat. Add the shrimp and cook for 2-3 minutes on each side until they turn pink and are cooked through. Remove the shrimp from the skillet and set them aside.
In the same skillet, add the remaining tablespoon of vegetable oil. Add the minced garlic and diced onion, and sauté until the onion becomes translucent and the garlic is fragrant.
Add the mixed vegetables to the skillet and stir-fry for a few minutes until they are tender. If using frozen vegetables, make sure they are heated through.
Push the vegetables to one side of the skillet and pour the lightly beaten eggs onto the other side. Scramble the eggs until they are fully cooked.
Add the cooked rice to the skillet and mix it with the vegetables and eggs.
Drizzle the soy sauce over the rice mixture and toss everything together to combine. You can adjust the amount of soy sauce according to your taste preferences.
Add the cooked shrimp back to the skillet and stir everything together until the shrimp are evenly distributed throughout the fried rice.
Season with salt and pepper to taste, if needed.
Optional: Garnish the shrimp fried rice with chopped green onions for added freshness and flavor.
Serve the delicious shrimp fried rice hot and enjoy this flavorful and satisfying meal! You can also customize the recipe by adding other ingredients like diced bell peppers, sliced mushrooms, or any other favorite vegetables you have on hand.