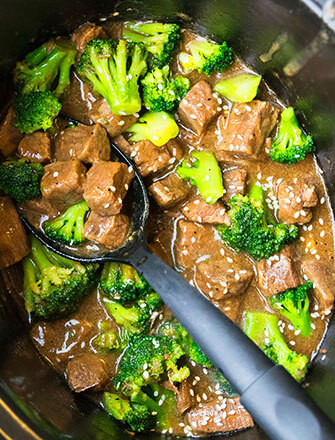 SLOW COOKER BEEF AND BROCCOLI RECIPE
SLOW COOKER BEEF AND BROCCOLI RECIPE
Fast and simple meat and broccoli formula, made with basic fixings in sluggish cooker/simmering pot. Succulent, delicate hamburger is covered in soy ginger garlic sauce.
Fixings
1.5 pounds Boneless meat, Cut into 2 inch blocks
1/4 cup Soy sauce, Low sodium
1/4 cup Brown sugar
1 cup Beef stock, Low sodium
2 tbsp Sesame oil
Salt, To taste
Pepper, To taste
1 tsp Ginger, Finely minced
1 tsp Garlic, Finely minced
1 tbsp Sriracha sauce, Optional
3 tbsp Cornstarch
2-3 cup Broccoli florets, Frozen
1 tsp Sesame seeds, For decorate
Guidelines
Add the hamburger, soy sauce, earthy colored sugar, stock, sesame oil, pepper, ginger, garlic, Sriracha sauce in the sluggish cooker and combine everything as one.
Cover and let everything cook for 3 hours on high OR 5 hours on low.
Eliminate ⅓ cup of the fluid into a little blending bowl. Gather cornstarch and blend it into a single unit until smooth. Pour this combination in the stewing pot and combine everything as one.
Add broccoli.
Cover and cook for 30 minutes so the sauce thickens.
Decorate with simmered sesame seeds.
Serve quickly with rice.