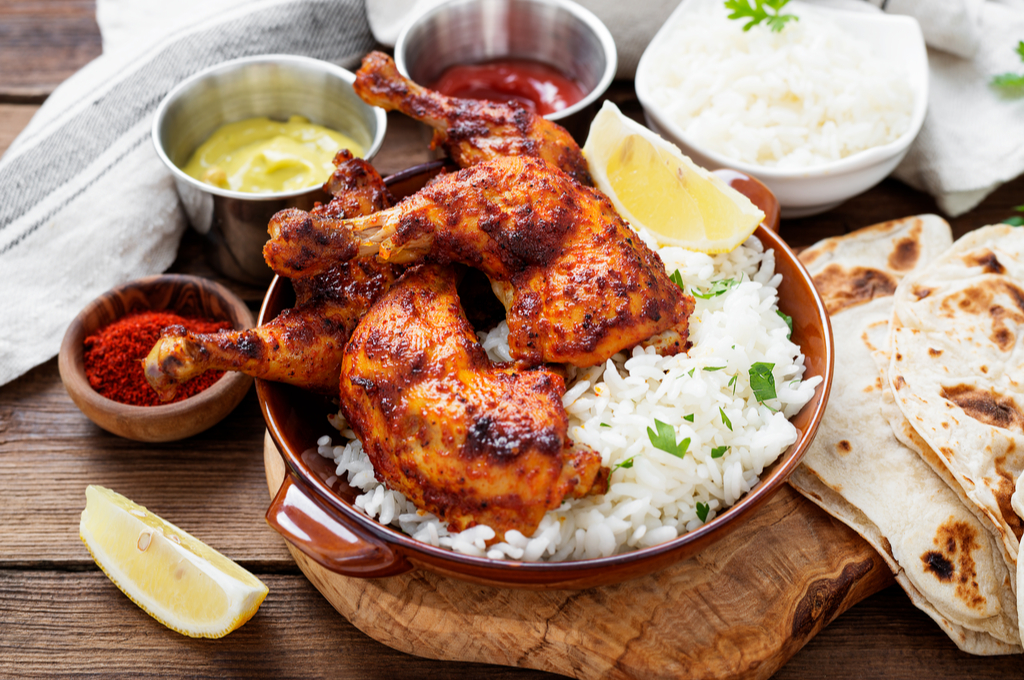 spicy chicken thighs recipe
spicy chicken thighs ingredients
Chicken thighs: 8 pieces (skinless)
Yogurt: 2 tablespoons (fat-free)
Thyme: 2 tablespoons
Paprika: 2 tablespoons
Hot tomato sauce: 4 tablespoons
Ginger: 1 tablespoon (grated)
Garlic: 2 tablespoons (crushed)
Vinegar: 2 tablespoons
Cardamom: a teaspoon
Coriander: a teaspoon
Olive oil: 2 tablespoons
How to prepare
Poke holes in the chicken thighs with a sharp knife until you reach the bone lengthwise and crosswise, to ensure that the seasoning soaks in the thighs and cooks easily.
Mix all ingredients except chicken thighs together, and mix well until completely combined.
Leave the dressing to rest for 15 minutes.
Season the chicken thighs with the prepared seasoning, ensuring that it goes through the holes.
Leave the chicken in the marinade from 3 hours to the whole night.
Arrange chicken thighs in a tray and cover with aluminum foil.
Heat the oven at 200°C.
Put the chicken tray in the oven for 20 minutes, then remove it, remove the aluminum foil, and return it to the oven, until you get a reddish brown color.
Take out the tray and cover it with aluminum foil for 15 minutes and set it aside until the liquids regain again.
Serve with basmati rice or tortilla bread.