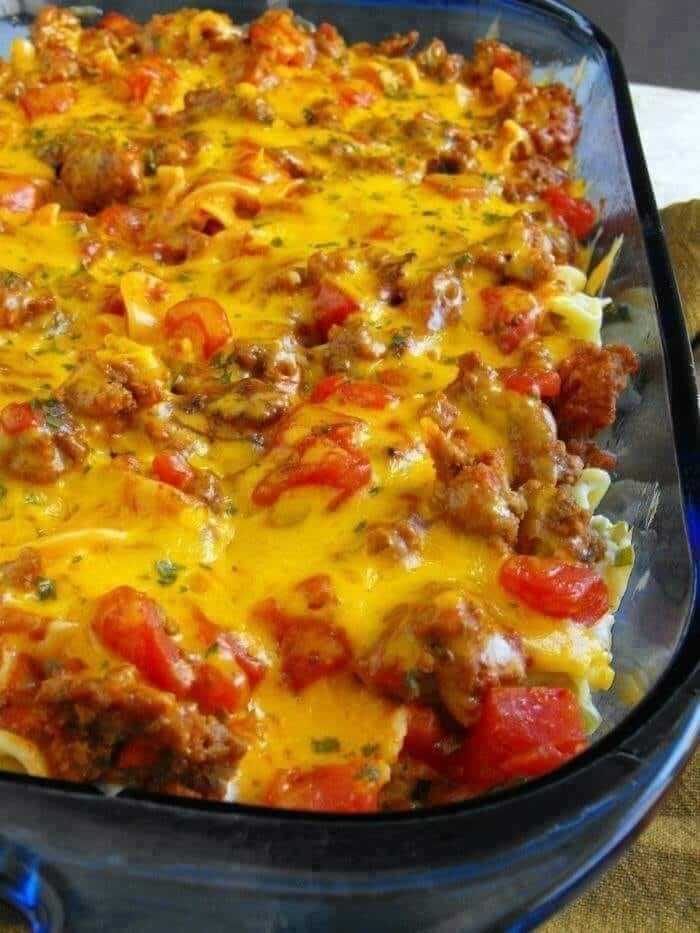 Beef Lombardi recipe
a delicious Italian-inspired beef and pasta casserole: Ingredients: 1 pound (450g) ground beef 1 onion, chopped 2 cloves of garlic, minced 1 green bell pepper, chopped 1 can (14.5 ounces/411g) diced tomatoes 1 can (6 ounces/170g) tomato paste 1 teaspoon dried oregano 1 teaspoon dried basil Salt and pepper to taste 8 ounces (225g) egg noodles, cooked and drained 1 cup (240ml) sour cream 1 cup (100g) shredded cheddar cheese 1 cup (100g) shredded mozzarella cheese Instructions: Preheat your oven to 350°F (175°C).
In a large skillet or frying pan, brown the ground beef over medium heat. Drain any excess fat. Add the chopped onion, minced garlic, and green bell pepper to the skillet with the ground beef. Sauté until the vegetables are tender. Stir in the diced tomatoes (with their juices), tomato paste, dried oregano, dried basil, salt, and pepper. Simmer the mixture for about 10 minutes, allowing the flavors to meld together. In a separate pot, cook the egg noodles according to the package instructions. Drain them once they are al dente. In a greased 9×13-inch baking dish, layer half of the cooked egg noodles.
Spread half of the ground beef mixture over the noodles. Spread half of the sour cream over the beef mixture, followed by half of the shredded cheddar and mozzarella cheeses. Repeat the layers with the remaining noodles, beef mixture, sour cream, and cheeses. Cover the baking dish with foil and bake in the preheated oven for 25 minutes. Then, remove the foil and continue baking for an additional 10 minutes, or until the cheese is melted and bubbly. Remove the Beef Lombardi from the oven and let it cool for a few minutes before serving. Serve hot and enjoy your Beef Lombardi casserole! This recipe serves approximately 6 to 8 people. Feel free to adjust the quantities based on your desired serving size