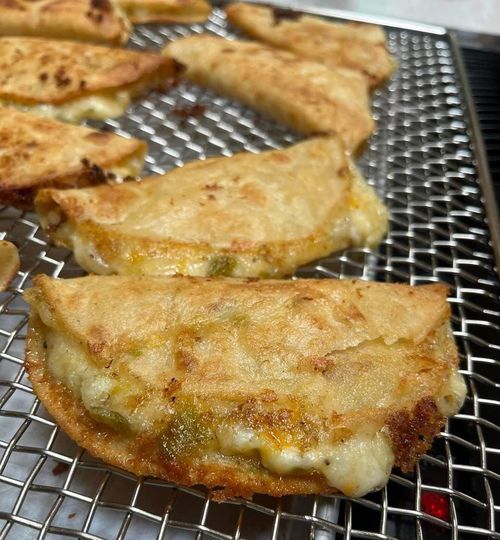 Tacos are a flavorful and satisfying dish that combines soft tortillas filled with seasoned potatoes and a zesty green chile sauce.
Here's a basic recipe to make Green Chile Potato Tacos: Ingredients: For the Green Chile Sauce: 2 cups roasted and peeled green chiles (such as Anaheim or Hatch chiles), chopped 1 small onion, chopped 2 cloves garlic, minced 1 cup vegetable or chicken broth 1 tablespoon olive oil Salt and pepper to taste For the Potato Filling: 3 medium potatoes, peeled and diced 1 tablespoon olive oil 1 teaspoon ground cumin 1/2 teaspoon paprika Salt and pepper to taste For Assembling Tacos: Soft corn or flour tortillas Chopped fresh cilantro Diced onions Crumbled queso fresco or grated cheddar cheese Lime wedges Instructions: Prepare the Green Chile Sauce: In a skillet, heat the olive oil over medium heat. Add the chopped onion and sauté until translucent.
Add the minced garlic and sauté for an additional 30 seconds until fragrant. Add the roasted green chiles and sauté for a few minutes.
Pour in the broth and let the mixture simmer for about 10-15 minutes. Use an immersion blender or a regular blender to blend the mixture until smooth. Season with salt and pepper to taste. Cook the Potatoes: In a separate skillet, heat the olive oil over medium heat. Add the diced potatoes and season with cumin, paprika, salt, and pepper. Cook the potatoes, stirring occasionally, until they're golden brown and cooked through. This will take about 15-20 minutes. Combine Potatoes with Green Chile Sauce: Pour the prepared green chile sauce over the cooked potatoes and stir to combine. Let the mixture simmer for a few more minutes to allow the flavors to meld.
Assemble the Tacos: Warm the tortillas either on a skillet or in the microwave. Place a spoonful of the green chile potato mixture onto each tortilla. Add Toppings: Top the potato mixture with chopped cilantro, diced onions, crumbled queso fresco or grated cheddar cheese, and a squeeze of lime juice. Serve: Serve the Green Chile Potato Tacos with your favorite side dishes or a fresh salad. Enjoy: Enjoy the delicious combination of flavors and textures in your homemade Green Chile Potato Tacos! Feel free to customize the toppings to your liking. You can also add extras like avocado slices, sour cream, or salsa for additional flavor and creaminess.