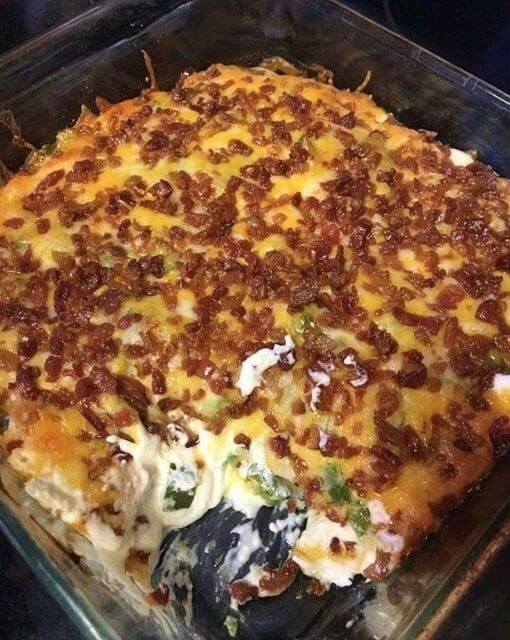 Jalapeño popper casserole
Jalapeño popper casserole
Jalapeño popper casserole is a delicious and flavorful dish that combines the elements of jalapeño poppers – typically a popular appetizer – into a convenient and satisfying casserole format. This casserole is often made with ingredients like cream cheese, cheddar cheese, jalapeños, and sometimes bacon, all baked together to create a creamy and spicy dish.
Here's a basic recipe for making jalapeño popper casserole: Ingredients: 8-10 large jalapeño peppers, sliced and seeds removed (wear gloves while handling jalapeños) 8 oz cream cheese, softened 1 cup shredded cheddar cheese 1/2 cup shredded mozzarella cheese 1/2 cup mayonnaise 1/2 cup sour cream 1/2 teaspoon garlic powder 1/2 teaspoon onion powder Salt and pepper to taste 6-8 slices cooked bacon, crumbled (optional) 1 cup breadcrumbs (for topping) 2 tablespoons butter, melted Instructions: Preheat your oven to 375°F (190°C) and grease a baking dish. In a mixing bowl, combine the softened cream cheese, shredded cheddar cheese, shredded mozzarella cheese, mayonnaise, sour cream, garlic powder, onion powder, salt, and pepper. Mix until well combined. Fold in the crumbled bacon (if using) and half of the sliced jalapeños into the cheese mixture. Spread the mixture evenly into the greased baking dish. In a separate bowl, mix the breadcrumbs and melted butter until the breadcrumbs are well-coated. Sprinkle the remaining sliced jalapeños over the top of the cheese mixture.
Evenly spread the buttered breadcrumbs over the jalapeños. Place the baking dish in the preheated oven and bake for about 20-25 minutes, or until the casserole is bubbly and the top is golden brown. Once baked, remove the casserole from the oven and let it cool slightly before serving. Serve the jalapeño popper casserole as a side dish or even as a main course, accompanied by tortilla chips or crusty bread. Note: You can adjust the level of spiciness by adding more or fewer jalapeño slices, and you can also leave the seeds in if you prefer it to be hotter. This jalapeño popper casserole is a crowd-pleasing dish that combines the creamy, cheesy, and slightly spicy flavors of traditional jalapeño poppers in a convenient and shareable format. Enjoy!