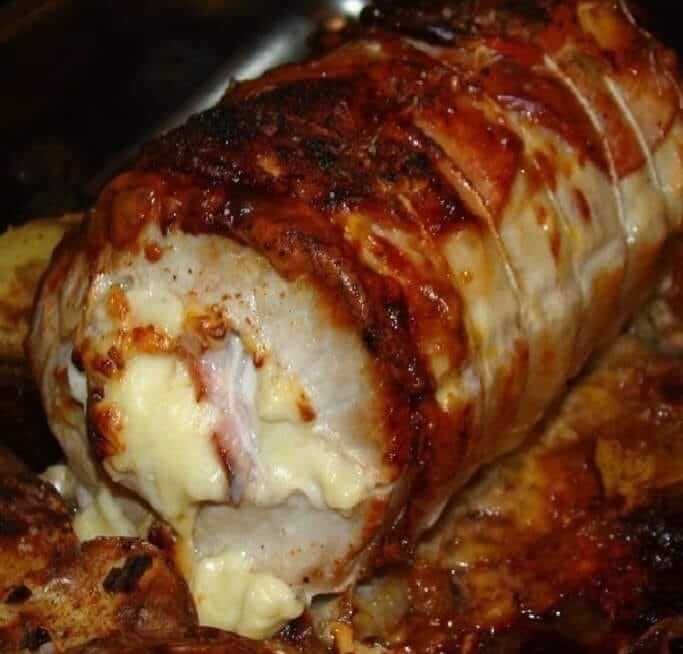 Loin stuffed with ham and cheese
Loin stuffed with ham and cheese
Loin stuffed with ham and cheese, roasted in the oven with potatoes is a delicious and savory dish that's perfect for a special occasion or a hearty family meal. It combines tender pork loin with the flavors of ham and cheese, and the roasted potatoes complement the dish beautifully. Here's a step-by-step recipe to guide you through the process:
Ingredients: For the stuffed loin: 1 boneless pork loin (about 2-3 pounds) 4-6 slices of ham 4-6 slices of cheese (such as Swiss, Gouda, or cheddar) Salt and pepper to taste 2 tablespoons olive oil For the roasted potatoes: 4-6 medium-sized potatoes, peeled and cut into chunks 2 tablespoons olive oil Salt and pepper to taste 1 teaspoon dried rosemary (optional) 1 teaspoon dried thyme (optional) Instructions: Preheat the oven to 375°F (190°C). Preparing the loin: Lay the pork loin flat on a clean cutting board. Using a sharp knife, make a slit down the center of the loin, but not all the way through.
You want to create a pocket to stuff the ham and cheese. Season the inside of the pocket with salt and pepper. Stuff the pocket with the slices of ham and cheese, alternating between them until the pocket is filled. Secure the opening with kitchen twine or toothpicks to prevent the stuffing from falling out during cooking. Rub the outside of the loin with olive oil and season with salt and pepper. Preparing the potatoes: In a separate mixing bowl, toss the potato chunks with olive oil, salt, pepper, and optional dried rosemary and thyme. Mix well to coat the potatoes evenly. Roasting in the oven: Place the stuffed loin in a roasting pan or a baking dish. Surround the loin with the seasoned potato chunks. Roast in the preheated oven for about 1 to 1.5 hours or until the internal temperature of the pork reaches 145°F (63°C). Cooking time may vary depending on the size of the loin, so it's best to use a meat thermometer to check for doneness. If you like the top of the loin to have a golden-brown crust, you can briefly broil it for a few minutes at the end of the cooking time. Resting and serving: Once the pork loin is cooked, remove it from the oven, cover it with foil, and let it rest for about 10 minutes. This allows the juices to redistribute and keeps the meat tender. Slice the stuffed pork loin into thick slices and serve it alongside the roasted potatoes. You can also pair it with a side salad or your favorite vegetables for a complete meal. Enjoy your delicious and flavorful loin stuffed with ham and cheese, roasted in the oven with potatoes! It's sure to be a hit at your dining table.