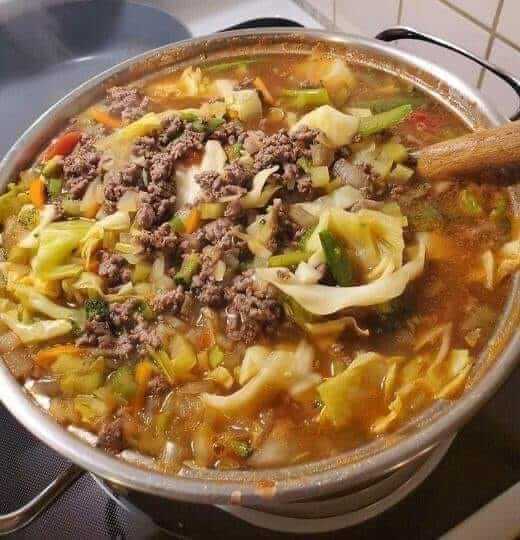 Recipe for cabbage soup:
Ingredients: 1 small head of cabbage, shredded 2 medium carrots, diced 2 celery stalks, diced 1 onion, diced 3 cloves of garlic, minced 4 cups vegetable or chicken broth 1 can diced tomatoes (14 ounces) 1 bay leaf 1 teaspoon dried thyme Salt and pepper to taste 2 tablespoons olive oil Instructions: Heat the olive oil in a large pot over medium heat. Add the diced onion and minced garlic to the pot and sauté for a few minutes until the onion becomes translucent. Add the diced carrots and celery to the pot and cook for an additional 5 minutes, stirring occasionally.
Add the shredded cabbage to the pot and cook for another 5 minutes until it starts to soften. Pour in the vegetable or chicken broth and the can of diced tomatoes with their juice. Stir well to combine. Add the bay leaf, dried thyme, salt, and pepper to the pot. Stir again. Bring the soup to a boil, then reduce the heat to low and cover the pot. Let the soup simmer for about 20-25 minutes, or until the vegetables are tender. Taste the soup and adjust the seasoning if needed by adding more salt and pepper. Remove the bay leaf from the pot before serving. Ladle the cabbage soup into bowls and serve hot. You can enjoy the cabbage soup as is, or you can garnish it with fresh herbs like parsley or dill if desired. It makes a hearty and nutritious meal on its own, or you can serve it with crusty bread or a side salad. Enjoy!