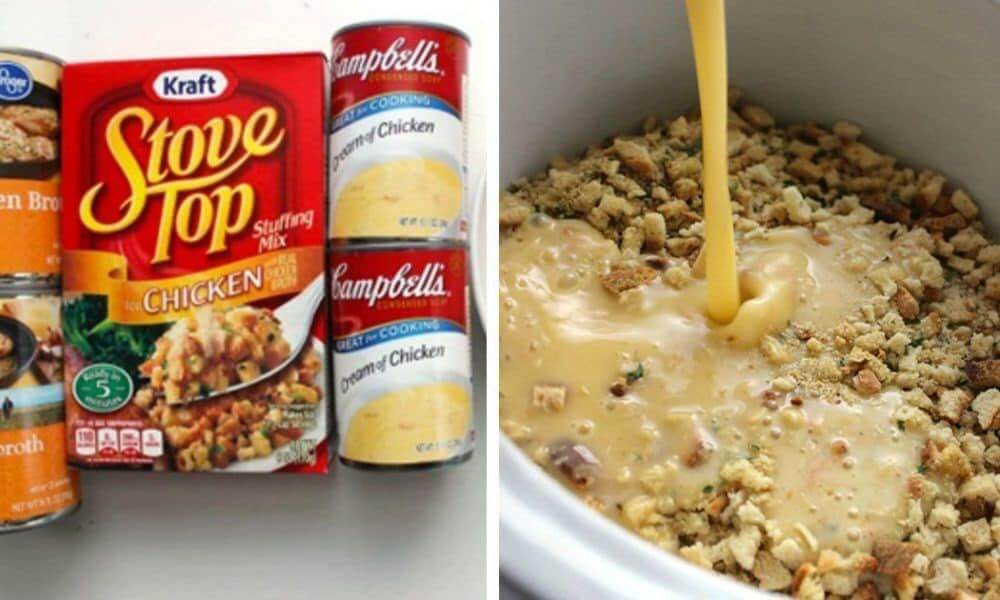 Slow Cooker Chicken with Stuffing Recipe
Slow Cooker Chicken with Stuffing Recipe
Ingredients: 4 boneless, skinless chicken breasts 1 box (6 ounces) of your favorite stuffing mix 1 can (10.5 ounces) condensed cream of chicken soup 1/2 cup chicken broth 1/2 cup water 1/4 cup unsalted butter, melted 1/2 teaspoon garlic powder 1/2 teaspoon onion powder 1/2 teaspoon dried thyme 1/2 teaspoon dried rosemary Salt and pepper to taste Fresh parsley for garnish (optional) Instructions: Prepare the slow cooker: Grease the slow cooker insert with cooking spray or use slow cooker liners for easy cleanup.
Season the chicken: Season the chicken breasts with salt and pepper on both sides. You can add other favorite seasonings if you prefer. Prepare the stuffing: In a bowl, mix the stuffing mix, melted butter, garlic powder, onion powder, dried thyme, and dried rosemary. Add the chicken broth and water, and stir until the stuffing is evenly moistened. Assemble the dish: Place half of the stuffing mixture at the bottom of the slow cooker. Lay the seasoned chicken breasts on top of the stuffing layer. Then, spread the condensed cream of chicken soup over the chicken. Add the remaining stuffing: Place the rest of the stuffing mixture on top of the chicken and soup layer. Cook: Cover the slow cooker with its lid and cook on low heat for 4-6 hours or on high heat for 2-3 hours. Cooking times may vary depending on your slow cooker and the thickness of the chicken breasts, so ensure the chicken reaches a safe internal temperature of 165°F (74°C). Serve: Once the chicken is fully cooked and tender, remove it from the slow cooker, and slice or shred as desired.
Serve the chicken with the stuffing on the side, and if you like, garnish with fresh parsley. This slow cooker chicken with stuffing recipe is a delicious and comforting meal that requires minimal effort. It's perfect for a busy day when you want a home-cooked dinner waiting for you at the end of the day. Enjoy!