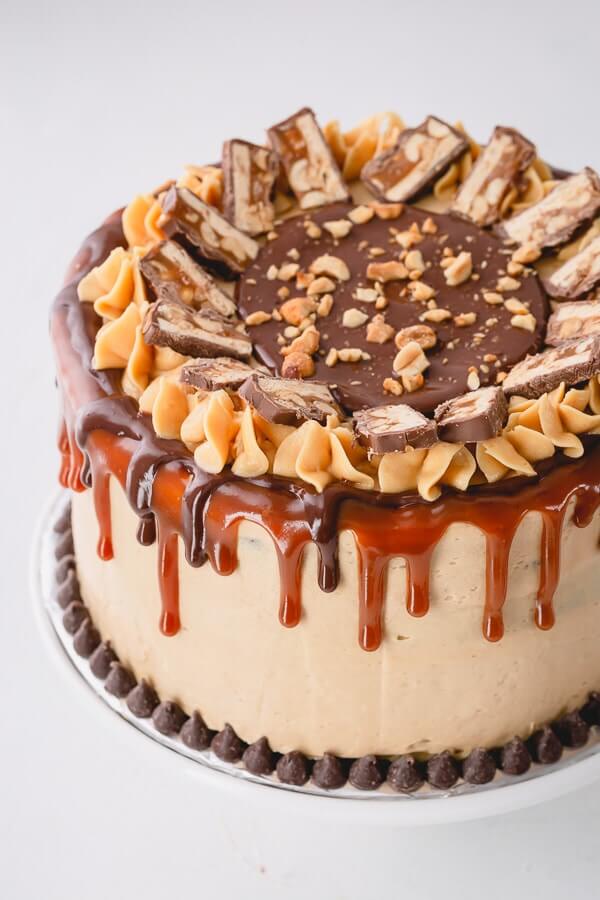 Snickers cake recipe
1 c. crude cashews
Bubbling water
1 c. whitened finely ground almond flour
1/2 c. coconut oil, softened, in addition to something else for brushing
1/4 c. finely destroyed dried coconut
2 tbsp. Turn granular
1 tsp. unadulterated vanilla concentrate
Fit salt
FOR THE CARAMEL
1/4 c. weighty cream
2 tbsp. earthy colored Swerve
1 c. unsweetened normal smooth peanut butter
3 tbsp. coconut oil
2 tbsp. without sugar maple syrup
2 tsp. unadulterated vanilla concentrate
Genuine salt
1 1/2 c. salted cooked peanuts
FOR THE CHOCOLATE COATING
3 c. sans sugar semisweet chocolate chips
2 tbsp. coconut oil
Headings
Make nougat: In an enormous heatproof bowl, place cashews and pour sufficient bubbling water over them to cover by no less than 1 inch. Let sit 10 minutes. Channel well.
Move depleted cashews to a blender. Add almond flour, coconut oil, dried coconut, sugar, vanilla, and a spot of salt. Process until smooth.
Brush a 9 x 9-inch baking skillet with coconut oil. Line with material, leaving a shade of somewhere around 2 creeps on different sides. Brush material with coconut oil. Scratch cashew combination into arranged dish and spread into an even layer with a spatula. Move to cooler while making caramel layer.
Make caramel: In a huge bowl, whisk weighty cream and sugar until sugar is broken up and cream frames firm pinnacles. Add peanut butter, coconut oil, maple syrup, vanilla, and a spot of salt and mix until all around consolidated.
Scratch caramel combination on top of nougat layer and spread equitably. Sprinkle uniformly with peanuts and press gently to some degree lower peanuts. Get back to cooler and freeze until cold and firm, something like 60 minutes.
Cautiously lift frozen nougat and caramel layers from baking container to a cutting board. Cut square into 4 long square shapes, then, at that point, cut every square shape across into 10 bars.
Make chocolate covering: In a medium microwave-safe bowl, consolidate chocolate chips and coconut oil. Microwave, blending like clockwork, until smooth.
Plunge each bar in softened chocolate, then, at that point, put on material lined baking sheet. Place in fridge to set, 10 minutes.