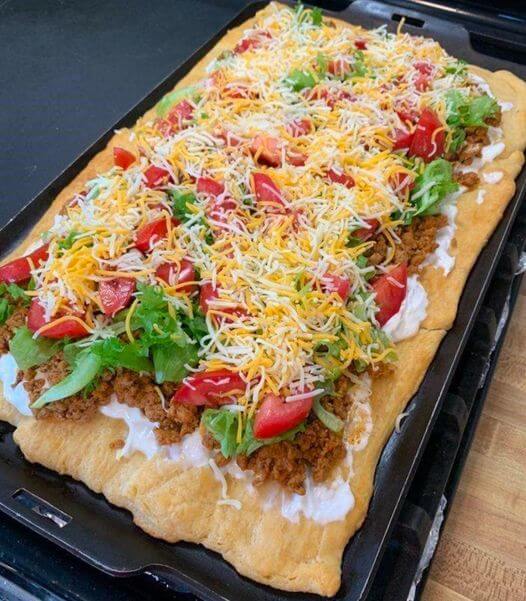 Tasty Taco Pizza:
Ingredients: For the pizza dough: 1 1/2 cups all-purpose flour 1 teaspoon instant yeast 1/2 teaspoon salt 1 tablespoon olive oil 1/2 cup warm water For the taco topping: 1 pound ground beef (or substitute with ground turkey or chicken) 1 packet (1.25 ounces) taco seasoning 1/2 cup water 1 cup refried beans 1 cup shredded cheddar cheese (or Mexican blend cheese) 1 cup diced tomatoes 1/2 cup diced red onion 1/4 cup sliced black olives 1/4 cup chopped fresh cilantro Optional toppings: sliced jalapeños, sour cream, guacamole Instructions: Preheat your oven to 425°F (220°C). If using a pizza stone, place it in the oven to preheat as well.
In a large mixing bowl, combine the flour, instant yeast, and salt. Gradually add the olive oil and warm water. Stir until the dough comes together. Transfer the dough onto a lightly floured surface and knead for about 5 minutes until smooth and elastic. If the dough is too sticky, add a little more flour. Place the dough in a greased bowl, cover it with a clean kitchen towel, and let it rise in a warm place for about 30 minutes, or until it doubles in size. Meanwhile, cook the ground beef in a skillet over medium heat until browned. Drain any excess grease. Add the taco seasoning and water, and simmer for a few minutes until the liquid is absorbed. Roll out the dough on a floured surface into a round pizza shape or your desired shape and thickness. If using a pizza stone, carefully transfer the rolled-out dough onto a pizza peel or an inverted baking sheet dusted with flour or cornmeal. If using a regular baking sheet, simply place the rolled-out dough on it. Spread the refried beans evenly over the pizza dough, leaving a small border around the edges.
Sprinkle the cooked ground beef over the refried beans. Top with shredded cheese, diced tomatoes, red onion, black olives, and any other desired toppings. Carefully transfer the pizza (on the pizza stone or baking sheet) to the preheated oven. Bake for 15-20 minutes, or until the crust is golden brown and the cheese is melted and bubbly. Remove the pizza from the oven and let it cool for a few minutes. Sprinkle fresh cilantro over the top. Slice the Taco Pizza and serve it warm. If desired, you can garnish each slice with sliced jalapeños, sour cream, or guacamole. Enjoy your delicious Taco Pizza! It's a fun twist on traditional tacos and pizza, perfect for a family dinner or a gathering with friends.