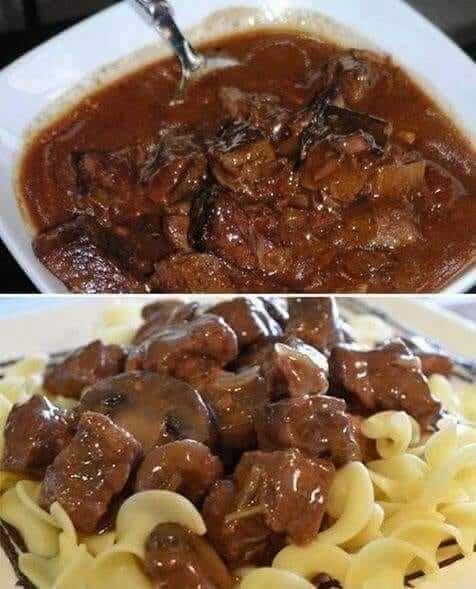 Beef tips noodles gravy egg cream
Baked beef tips and noodles:
Ingredients: 1.5 pounds (680g) beef tips, cubed 1 tablespoon olive oil 1 onion, diced 2 cloves garlic, minced 8 ounces (225g) mushrooms, sliced 2 cups beef broth 1 cup sour cream 1 tablespoon Worcestershire sauce 1 teaspoon Dijon mustard Salt and pepper to taste 12 ounces (340g) wide egg noodles Fresh parsley, chopped (for garnish) Instructions: Preheat your oven to 350°F (175°C). Heat the olive oil in a large oven-safe skillet or Dutch oven over medium-high heat. Add the beef tips and cook until browned on all sides. Remove the beef from the skillet and set aside. In the same skillet, add the diced onion and minced garlic.
Sauté until the onion becomes translucent and fragrant. Add the sliced mushrooms to the skillet and cook until they release their moisture and start to brown. Pour in the beef broth, sour cream, Worcestershire sauce, and Dijon mustard. Stir well to combine and bring the mixture to a simmer. Season with salt and pepper to taste. Return the beef tips to the skillet and stir to coat them with the sauce. Cover the skillet or Dutch oven with a lid or aluminum foil. Place the skillet in the preheated oven and bake for 1 hour or until the beef is tender and the flavors have melded together. Meanwhile, cook the egg noodles according to the package instructions until al dente.
Drain the noodles and set aside. Once the beef tips are done baking, remove the skillet from the oven. Taste the sauce and adjust the seasoning if necessary. Serve the baked beef tips and sauce over a bed of cooked egg noodles. Garnish with fresh chopped parsley. Enjoy your delicious baked beef tips and noodles!