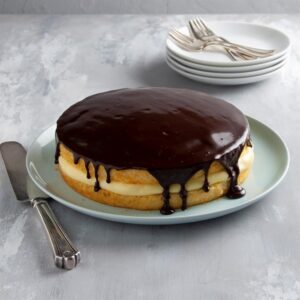 Boston Cream Pie Recipe
Ingredients
To prepare the cake:
1 ½ cup milk
7 tablespoons melted butter
4 eggs
½ cup sugar
3 tablespoons vegetable oil
3 cups flour
1 vanilla envelope
½ sachet baking powder
¼ teaspoon salt
To prepare the cream filling:
2 ½ cups hot milk
3 egg yolks
1 egg
¾ cup sugar
2 tablespoons of starch
1 tablespoon flour
1 vanilla envelope
1 tablespoon butter
To prepare the ganache:
¾ cup liquid sweet cream
200 g dark chocolate
How to prepare
Put the eggs and sugar in a bowl and beat with an electric whisk until the mixture becomes white.
Add the oil, butter and milk and mix well, then add the flour, vanilla, baking powder and salt and beat until the ingredients are mixed.
Grease a cake tin and sprinkle it with flour, then pour the cake mixture into it and put it in the oven at 180 degrees for 30-35 minutes.
Take it out of the oven and leave it aside to cool completely.
Meanwhile, we prepare the creamy filling, put in a bowl the sugar, the egg and the egg yolk, and stir well until the mixture becomes white.
Sift the starch over the mixture and stir well, then gradually add the hot milk while continuing to stir, then put it on the fire until it becomes thick.
Turn off the heat, add the vanilla and butter, stir until the butter melts, then put the mixture in a bowl, cover with cling film, and leave it in the fridge for three hours until it cools completely.
Put the chocolate and cream in the electric mixer and turn it on so that the ganache is ready.
Divide the cake into two layers, then put the creamy filling between them, then pour the ganache and put the cake in the fridge for two hours or more until the layers hold together.
Take the cake out of the fridge and cut it so it is ready to be served.