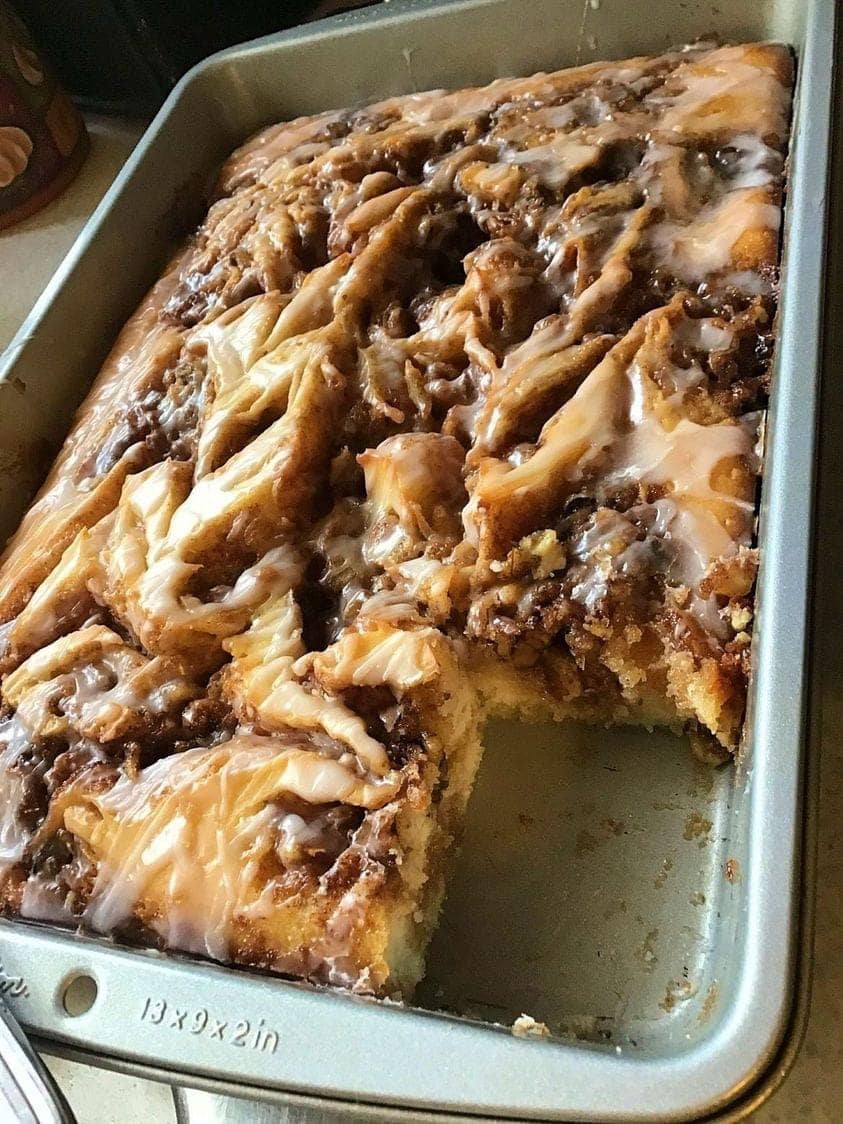 Cinnabon Cinnamon Roll Cake
Cinnabon Cinnamon Roll Cake is a delightful dessert that captures the flavors of Cinnabon cinnamon rolls in a convenient and cake-like form. Here's a recipe for making this delicious treat: Ingredients: For the Cake Batter: 2 cups all-purpose flour 1 cup granulated sugar 1 teaspoon baking powder 1/2 teaspoon baking soda 1/2 teaspoon salt 3/4 cup buttermilk 1/2 cup unsalted butter, melted 2 large eggs 2 teaspoons vanilla extract For the Cinnamon Swirl: 1/2 cup unsalted butter, softened 1/2 cup brown sugar 2 tablespoons ground cinnamon For the Cream Cheese Frosting: 4 oz cream cheese, softened 1/4 cup unsalted butter, softened 2 cups powdered sugar 1 teaspoon vanilla extract Instructions: Preheat the Oven: Preheat your oven to 350°F (175°C). Grease and flour a 9×13-inch baking pan. Prepare the Cake Batter: In a large mixing bowl, whisk together the flour, granulated sugar, baking powder, baking soda, and salt.
In another bowl, whisk together the buttermilk, melted butter, eggs, and vanilla extract until well combined. Gradually add the wet ingredients to the dry ingredients, stirring until just combined. Be careful not to overmix. Make the Cinnamon Swirl: In a small bowl, mix together the softened butter, brown sugar, and ground cinnamon to create the cinnamon swirl. Assemble the Cake: Pour half of the cake batter into the prepared baking pan.
Spread it evenly. Drop spoonfuls of the cinnamon swirl mixture over the batter. Use a knife to gently swirl the cinnamon mixture into the batter. Pour the remaining cake batter over the cinnamon swirl layer and spread it evenly.
Bake the Cake: Place the baking pan in the preheated oven and bake for about 25-30 minutes, or until a toothpick inserted into the center comes out clean. Make the Cream Cheese Frosting: While the cake is baking, prepare the cream cheese frosting. In a mixing bowl,
beat together the softened cream cheese and butter until creamy. Gradually add the powdered sugar and vanilla extract, and continue beating until smooth and well combined. Frost the Cake: Once the cake is fully baked and cooled slightly, spread the cream cheese frosting evenly over the top of the cake. Serve: Slice the Cinnabon Cinnamon Roll Cake into squares and serve warm or at room temperature. Enjoy: Enjoy the delicious flavors of cinnamon rolls in this convenient cake form! This recipe captures the essence of Cinnabon cinnamon rolls, but in a slightly different presentation. Feel free to add chopped nuts or raisins to the cinnamon swirl if you prefer.