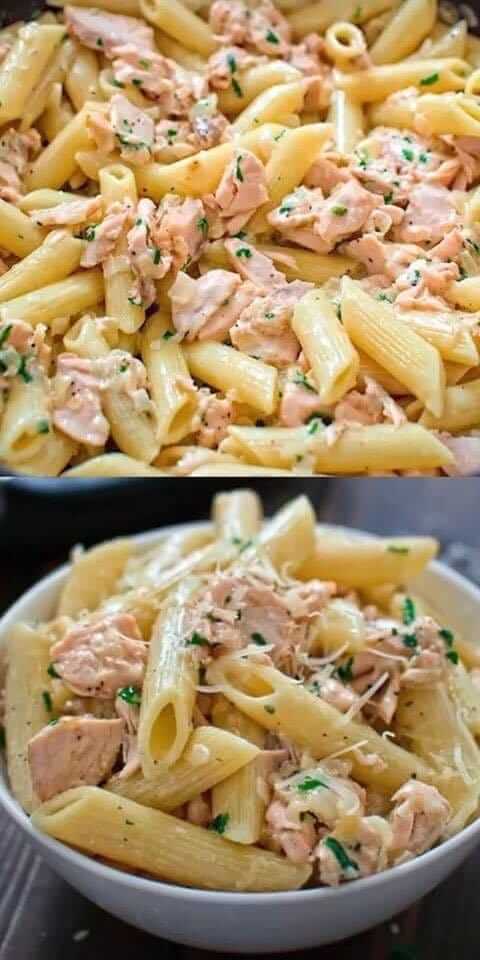 Creamy salmon pasta
Creamy salmon pasta is a delicious and comforting dish that combines cooked salmon with a creamy sauce and pasta. It's a simple and flavorful meal that can be easily prepared at home. Here's a basic recipe to get you started: Ingredients: 8 ounces (225g) pasta (e.g., fettuccine, linguine, or penne) 8 ounces (225g) salmon fillet, skinless and boneless 2 tablespoons butter 1 tablespoon olive oil 2 garlic cloves, minced 1 cup heavy cream 1/2 cup chicken or vegetable broth 1/2 cup grated Parmesan cheese 1 tablespoon fresh lemon juice Salt and pepper to taste Fresh parsley, chopped, for garnish Instructions: Cook the pasta: Bring a large pot of salted water to a boil.
Add the pasta and cook according to the package instructions until al dente. Drain the pasta and set aside. Prepare the salmon: Cut the salmon into bite-sized pieces and season with salt and pepper. Make the creamy sauce: In a large skillet or pan, melt the butter with the olive oil over medium heat. Add the minced garlic and sauté for about 1 minute until fragrant. Add the salmon: Add the seasoned salmon pieces to the skillet and cook for 2-3 minutes on each side until lightly browned and cooked through. Be careful not to overcook the salmon.
Create the creamy sauce: Lower the heat and pour in the heavy cream and chicken or vegetable broth. Stir gently to combine and let it simmer for a few minutes until the sauce thickens slightly. Add Parmesan cheese and lemon juice: Stir in the grated Parmesan cheese and lemon juice to the sauce. Adjust the seasoning with salt and pepper to your taste. Combine the pasta and sauce: Add the cooked pasta to the creamy sauce in the skillet. Toss everything together until the pasta is evenly coated with the sauce. Serve: Garnish the creamy salmon pasta with fresh chopped parsley for some color and extra flavor. Enjoy your creamy salmon pasta while it's still warm! It pairs wonderfully with a side salad or some garlic bread. Feel free to add some additional vegetables like spinach or cherry tomatoes if you desire more color and nutrients in your dish.