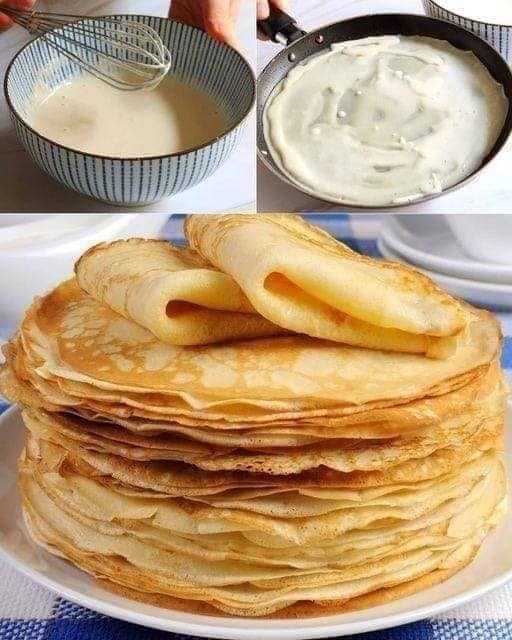 Crepes Recipe
These delicate and buttery French crepes are so delicious, easy to make, and customizable with whatever sweet or savory fillings your heart desires. They're perfect for breakfast, brunch, lunch, or even dinner! Prep Time: 1hr Cook Time: 30mins Total Time: 1hr 30mins Servings: 10 makes about 20 6-inch crepes Calories: 127kcal Ingredients: 4 large eggs 1 cup milk , (whole milk is best) 1 cup water 1 ¼ cups sifted all-purpose flour 3 tablespoons butter, plus more for cooking , melted ½ teaspoon kosher salt Stuff crepes with: fresh berries or sliced fruit assortment of jams or preserves savory or sweet spreads soft cheeses sauteed vegetables , like spinach, onions, or mushrooms whipped cream nuts, , chocolate, coconut, fresh herbs Instructions: Mix all ingredients in a blender on high speed for about a minute.
Let sit at room temperature for about an hour. (Alternatively, you can let the crepe batter refrigerate overnight, just be sure to leave it on the counter an hour or so before using so it can come to room temperature). Preheat a 6 or 7-inch nonstick skillet over medium heat. Once it's nice and hot, melt about a teaspoon or so of butter in the skillet (alternatively you could brush the skillet with melted butter), and use a ¼ cup measuring cup to pour the batter into the center of the skillet, moving it around so the batter spreads to the edges. Cook until the surface is bubbly then carefully flip the crepe (with your fingers or a spatula) the crepe and cook on the other side. Remove from the heat, place on a plate, and cover with another plate until ready to use. Be sure to butter the skillet in between making your crepes. To layer with spreads and other toppings, spread ¼ of the crêpe with filling, fold in half and then fold over again.
Top with more spreads, toppings, or powdered sugar. Crepes can be made several hours before serving and kept at room temperature.
Notes: These crepes are great served warm or at room temperature Nutritional Info: Calories: 127kcal | Carbohydrates: 13g | Protein: 5g | Fat: 6g | Saturated Fat: 3g | Polyunsaturated Fat: 1g | Monounsaturated Fat: 2g | Trans Fat: 1g | Cholesterol: 77mg | Sodium: 179mg | Potassium: 79mg | Fiber: 1g | Sugar: 1g | Vitamin A: 240IU |