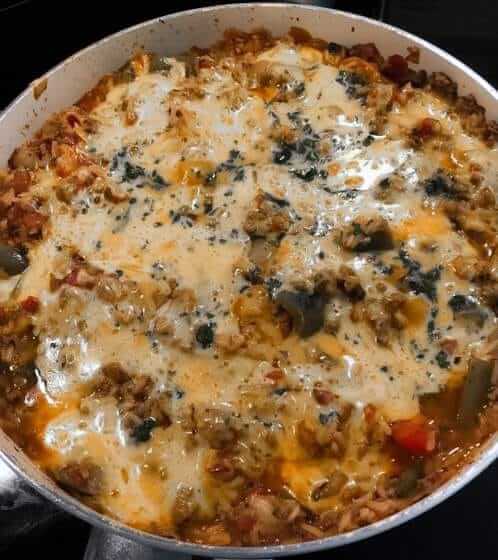 Ground Beef and Peppers Skillet
Delicious Ground Beef and Peppers Skillet
: Ingredients: 1 pound (450g) ground beef 1 onion, chopped 2 bell peppers (any color), sliced 2 cloves of garlic, minced 1 can (14.5 ounces/411g) diced tomatoes 1 tablespoon tomato paste 1 teaspoon ground cumin 1 teaspoon chili powder (adjust to taste) Salt and pepper to taste 1 tablespoon oil (olive oil or vegetable oil) Optional toppings: shredded cheese, chopped fresh cilantro, sour cream Instructions: Heat the oil in a large skillet over medium heat. Add the chopped onion and minced garlic to the skillet. Sauté until the onion becomes translucent and the garlic becomes fragrant. Add the ground beef to the skillet. Cook and crumble the beef until it is browned and cooked through.
Stir in the sliced bell peppers, diced tomatoes (with their juices), tomato paste, ground cumin, chili powder, salt, and pepper. Mix well to combine all the ingredients. Reduce the heat to medium-low and let the mixture simmer for about 10-15 minutes, or until the peppers are tender and the flavors have melded together. Taste and adjust the seasonings as desired, adding more salt, pepper, or chili powder to suit your preference.
Once the Ground Beef and Peppers Skillet is cooked, remove it from the heat. Serve the skillet dish hot, either on its own or over cooked rice, pasta, or tortillas. If desired, garnish with shredded cheese, chopped fresh cilantro, or a dollop of sour cream before serving. Enjoy your Ground Beef and Peppers Skillet! It's a flavorful and hearty dish that's quick and easy to make.