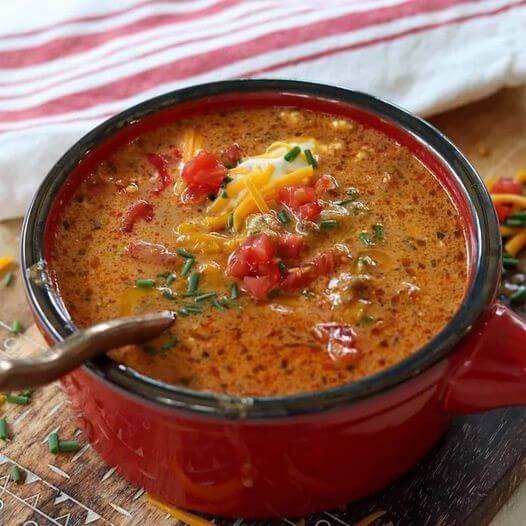 Recipe for Creamy Beef Taco Soup:
Recipe for Creamy Beef Taco Soup:
Ingredients:
1 pound (450g) ground beef
1 onion, chopped
2 cloves of garlic, minced
1 can (14.5 ounces/411g) diced tomatoes
1 can (15 ounces/425g) black beans, drained and rinsed
1 can (15 ounces/425g) corn kernels, drained
1 can (4 ounces/113g) diced green chilies
1 package (1 ounce/28g) taco seasoning
4 cups (960ml) beef broth
1 cup (240ml) heavy cream
Salt and pepper to taste
Optional toppings: shredded cheese, sliced green onions, diced tomatoes, sour cream, tortilla chips
Instructions:
In a large soup pot or Dutch oven, brown the ground beef over medium heat. Drain any excess fat.
Add the chopped onion and minced garlic to the pot with the ground beef. Sauté until the onion becomes translucent and the garlic becomes fragrant.
Stir in the diced tomatoes, black beans, corn kernels, diced green chilies, and taco seasoning. Mix well to combine all the ingredients.
Pour in the beef broth and bring the mixture to a boil. Reduce the heat to low and let it simmer for about 15-20 minutes, allowing the flavors to meld together.
Stir in the heavy cream and continue simmering for an additional 5 minutes, until the soup is heated through.
Taste the soup and season with salt and pepper according to your preference.
Remove the Creamy Beef Taco Soup from the heat.
Ladle the soup into bowls and garnish with your desired toppings, such as shredded cheese, sliced green onions, diced tomatoes, sour cream, or tortilla chips.
Serve the soup hot and enjoy its creamy and flavorful goodness!
Note: Feel free to adjust the seasoning and spice level by adding more or less taco seasoning or diced green chilies, depending on your taste preferences.
This recipe yields approximately 6 servings. It's a satisfying and comforting soup that's perfect for cooler days or when you're craving a delicious taco-inspired dish.