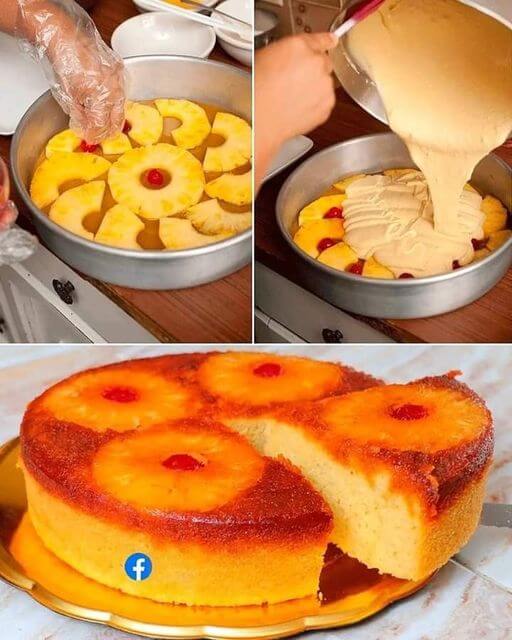 Homemade Pineapple Turnovers:
Homemade Pineapple Turnovers:
Ingredients: 2 cups all-purpose flour 1/2 teaspoon salt 1 cup unsalted butter, cold and cut into small pieces 1/4 cup ice water 2 cups canned crushed pineapple, drained 1/2 cup granulated sugar 1 tablespoon cornstarch 1 teaspoon vanilla extract 1 egg, beaten (for egg wash) Powdered sugar (for dusting) Instructions: In a large bowl, mix the flour and salt together.
Add the cold butter pieces and cut them into the flour using a pastry cutter or your fingers until the mixture resembles coarse crumbs. Slowly add the ice water, a tablespoon at a time, and mix until the dough comes together. Be careful not to overmix. Form the dough into a ball, wrap it in plastic wrap, and refrigerate for at least 30 minutes. Preheat your oven to 375°F (190°C) and line a baking sheet with parchment paper. In a saucepan, combine the drained crushed pineapple, granulated sugar, and cornstarch. Cook over medium heat, stirring constantly, until the mixture thickens and comes to a boil. Remove from heat and stir in the vanilla extract. Allow the pineapple filling to cool. On a lightly floured surface, roll out the chilled dough to a thickness of about 1/8 inch. Cut the dough into squares or circles, approximately 4 to 5 inches in diameter.
Place a spoonful of the cooled pineapple filling in the center of each dough square or circle. Fold the dough over the filling to create a turnover shape. Use a fork to seal the edges by pressing down gently. Place the turnovers on the prepared baking sheet. Brush the tops with beaten egg wash to give them a golden color. Bake in the preheated oven for about 20-25 minutes or until the turnovers are golden brown. Remove the turnovers from the oven and let them cool on a wire rack. Once cooled, dust the turnovers with powdered sugar. Serve the homemade pineapple turnovers warm or at room temperature. Enjoy! Note: You can also add a sprinkle of cinnamon or a handful of raisins to the pineapple filling for extra flavor, if desired.