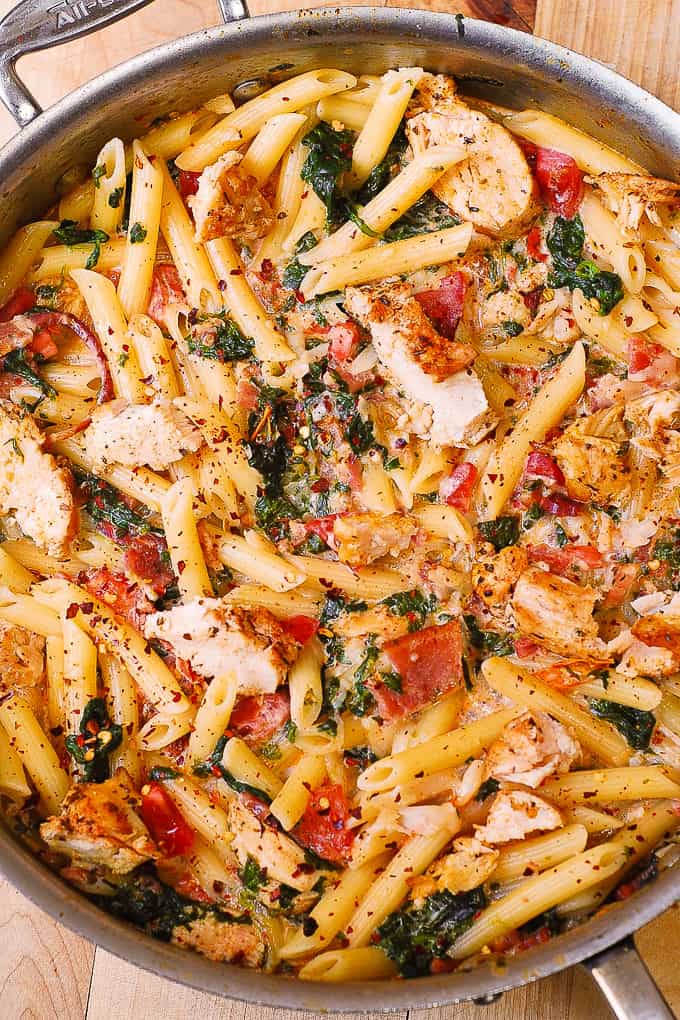 How to make chicken and bacon penne pasta ?
chicken and bacon penne pasta recipe
Fixings
2 tablespoons olive oil
1 pound (chicken bosom or tenders)
1 teaspoon paprika
1 teaspoon Italian flavoring (thyme, oregano, basil – consolidated)
5 medium tomatoes, hacked in huge 3D squares
1 cup cooked spinach
5 garlic cloves, minced
1 tablespoon squashed red pepper
6 bacon strips, COOKED, DRAINED OF FAT, AND CHOPPED
1 and 1/3 cups cream
1 and 1/3 cups Parmesan cheddar, destroyed
10 oz penne pasta (for without gluten form, use without gluten brown-rice penne, like Tinkyada)
1/2 cup Parmesan cheddar, ground, for serving
Guidelines
In a huge skillet, on high hotness, heat 2 tablespoons of olive oil until hot. Add chicken and cook on one side on high hotness for 1 moment. While it cooks, sprinkle the uncooked sides of the chicken with paprika and Italian flavoring. Flip the chicken over, and cook on the opposite side for 1 moment on high hotness. Lessen hotness to medium, flip chicken over again and cook, covered, for quite some time until as of now not pink in the middle. Eliminate chicken from the dish and keep chicken warm.
To a similar dish (yet without chicken), add hacked tomatoes, spinach, garlic, squashed red pepper, 1/3 of the chicken (cut into little strips) and a large portion of the bacon (currently cooked and depleted of fat). Blend everything.
Add cream and bring to bubble. Solely after creamer begins bubbling, add ground Parmesan cheddar – quickly decrease to stew and mix, while stewing, until the cheddar melts and makes the sauce rich, something like 1 moment (at most 2 minutes). Then, at that point, quickly eliminate from heat. Season with more squashed red pepper and salt, if necessary.
Meanwhile carry a huge pot of water to bubble, add pasta and cook it as per directions. Channel the pasta, wash with cold water and channel once more.
Add pasta to the skillet with the sauce. Add staying half of bacon (cooked and depleted of fat). Season with more salt if essential. Cut the excess 2/3 of chicken into slender strips. To serve, top the pasta with chicken fingers and ground Parmesan cheddar.