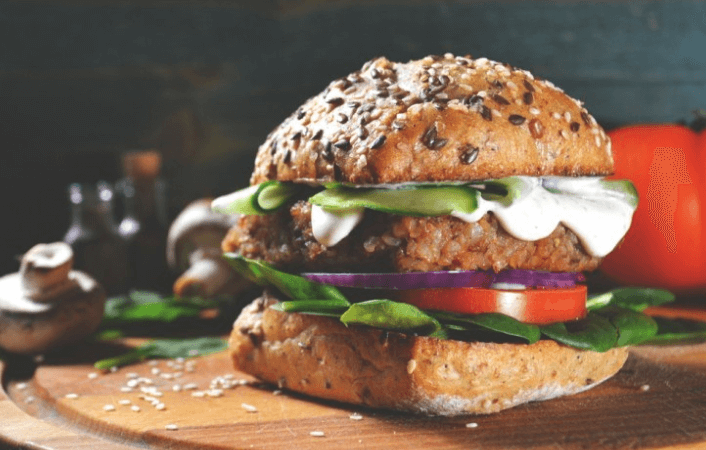 How To Make The Best Vegan Burger?
How To Make The Best Vegan Burger recipe
Ingredients
3x tablespoons of ground rusk
2 x garlic cloves
2x large spoon tahini
2x green onion sticks
1 x small spoon of dried thyme
1 x carrots (grated)
1x cup of chickpeas
1x cup of bulgur
1 x number of sweet red pepper (finely chopped)
1x small spoon of salt
1 x number of eggs (fresh)
½ x teaspoon hot sauce
½ x teaspoon ground black pepper
½ x teaspoon paprika
¼ x cup fresh parsley
steps
We wash the bulgur several times, then drain the water and soak it in a dish to absorb the rest of the water and double its volume.
Take the filling of your hand with bulgur from the dish and press it firmly to get rid of the remaining water after soaking and put it in a deep dish.
We continue filtering the rest of the bulgur in the same way to finish all the quantity. And put it in the dish.
Add the chickpeas and tahini, and using a potato masher, mash all the materials well to get a coarse, homogeneous mixture.
Add onions, garlic, parsley, pepper, eggs, carrots, salt, oregano, pepper, paprika and hot sauce, stir the mixture to mix the materials well. Leave the mixture for a few minutes to homogenize and coherence a little.
We take a little of the mixture and press it by hand to test the possibility of forming it in the form of a disk and add the rusk if the mixture is soft and crumbly.
Put a thick frying pan or a thick-bottomed frying pan on a medium heat and brush it with a little corn oil. Let it heat up well.
Take a burger forming tool, put a quantity of burger in it and press it lightly to become an even disk.
Put the burger patty on the tin and wait for several minutes for the bottom to firm up and turn golden. Using a wide spoon, flip the burger patties on the other side and wait for several minutes until the bottom becomes golden and the burger is cooked.