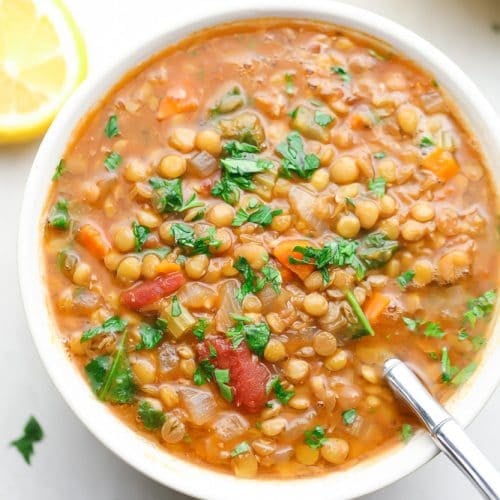 lentils and vegetables soup recipe :
lentils and vegetables soup Ingredients:
Three tablespoons of corn oil. Crushed garlic clove. Two medium carrots, cut into cubes. A medium-sized tomato, sliced. Small spoon of salt. A teaspoon of cumin. ¼ teaspoon of black pepper. Onion, medium size, chopped.
A cup of crushed lentils. A medium-sized potato, cut into cubes. Six cups of water. Method of preparation Bring a suitable size pot and put a little corn oil inside it and raise it over a medium heat until it heats up, then add the onions and stir it well until it softens, then add the garlic and stir it until it turns golden.
Add each of: carrots, tomatoes, crushed lentils and potatoes over the onions, while continuing to stir the ingredients together for a little while, then add water and mix well with the rest of the ingredients. Leave the pot on a medium heat until the vegetables are completely cooked for at least twenty-five minutes. Put the soup mixture into the blender jug ​​in batches and mix well until it becomes a smooth texture, and more water can be added if necessary. Add a little black pepper, salt and cumin over the lentil soup and mix it well, then transfer the soup to another bowl and heat it again, then put it in appropriate sized dishes and serve it with lemon and bread. Cheese samosa.