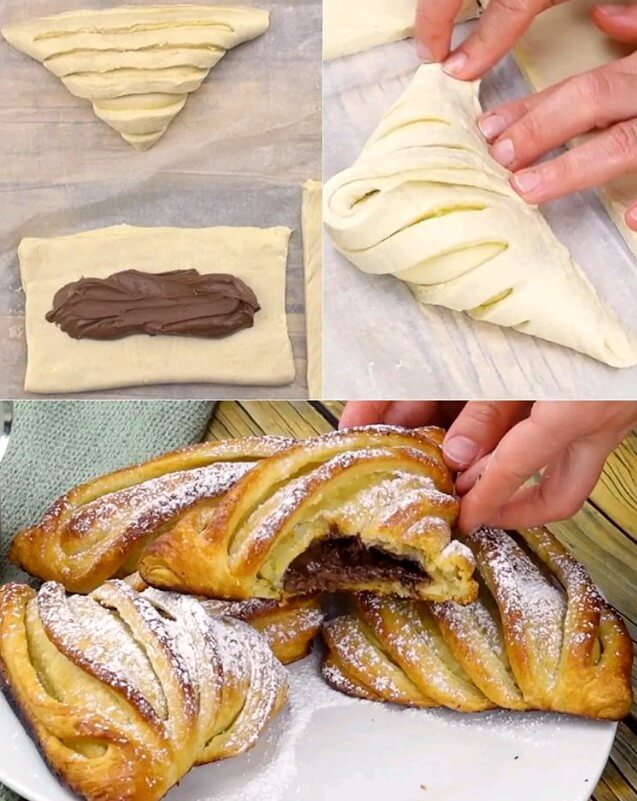 Puff Pastry Triangles:
Puff Pastry Triangles: Ingredients: 1 sheet of frozen puff pastry, thawed 1 cup of your choice of filling (e.g., spinach and feta, ham and cheese, mushroom and onion) 1 egg, beaten (for egg wash) Sesame seeds or poppy seeds (optional, for garnish) Instructions: Preheat your oven to 400°F (200°C). Line a baking sheet with parchment paper. Roll out the thawed puff pastry sheet on a lightly floured surface to smooth out any creases. Cut the sheet into desired triangle shapes. You can make them as large or small as you prefer. Place a spoonful of your chosen filling onto one half of each triangle, leaving a small border around the edges. Fold the other half of the triangle over the filling to create a triangle shape.
Press the edges together firmly to seal. Transfer the filled triangles onto the prepared baking sheet, leaving some space between them. Brush the tops of the triangles with beaten egg wash. This will give them a golden brown color when baked. If desired, sprinkle sesame seeds or poppy seeds on top for added flavor and visual appeal. Bake in the preheated oven for 15-20 minutes, or until the puff pastry triangles are puffed and golden brown. Remove from the oven and let them cool for a few minutes before serving. They can be enjoyed warm or at room temperature. Puff Pastry Triangles make a great appetizer or snack. They are versatile, and you can experiment with different fillings to suit your taste. Enjoy!