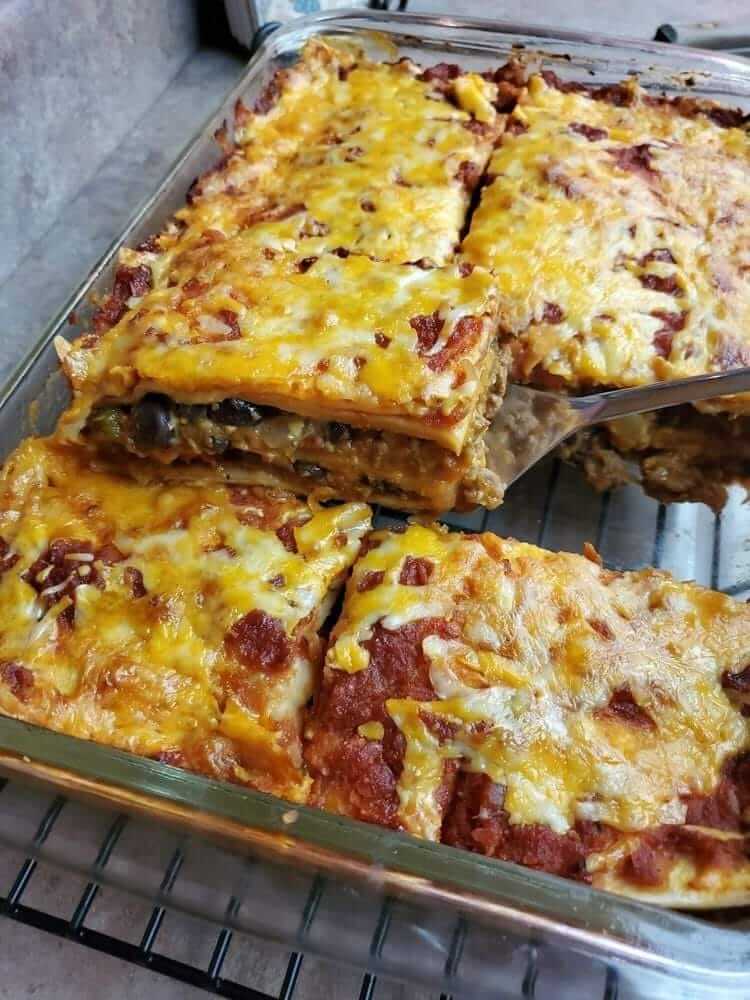 An Easy Vegan Taco lasagna:
An Easy Vegan Taco lasagna:
Ingredients: 12 lasagna noodles 1 tablespoon olive oil 1 onion, diced 2 cloves garlic, minced 1 bell pepper, diced 1 zucchini, diced 1 can (15 ounces) black beans, drained and rinsed 1 cup corn kernels (fresh or frozen) 1 can (15 ounces) diced tomatoes 1 packet (1 ounce) taco seasoning 1 cup tomato sauce 1 cup vegan cheese, shredded (such as vegan cheddar or mozzarella) Fresh cilantro, chopped (for garnish, optional) Salt and pepper to taste Instructions: Preheat your oven to 375°F (190°C) and grease a 9×13-inch baking dish. Cook the lasagna noodles according to the package instructions until al dente. Drain and set aside. In a large skillet, heat the olive oil over medium heat.
Add the diced onion, minced garlic, bell pepper, and zucchini. Sauté for about 5 minutes until the vegetables are softened. Add the black beans, corn, diced tomatoes (with their juices), taco seasoning, tomato sauce, salt, and pepper to the skillet. Stir well to combine and simmer for about 5 minutes to let the flavors meld. To assemble the lasagna, spread a thin layer of the bean and vegetable mixture on the bottom of the greased baking dish. Place a layer of cooked lasagna noodles on top, followed by another layer of the bean mixture. Repeat the process until all the ingredients are used, ending with a layer of the bean mixture on top. Sprinkle the vegan shredded cheese evenly over the top layer. Cover the baking dish with aluminum foil and bake for 25 minutes
. Then remove the foil and bake for an additional 10 minutes or until the cheese is melted and bubbly. Remove from the oven and let it cool for a few minutes. Garnish with chopped fresh cilantro, if desired, and serve hot. This easy vegan taco lasagna is a delicious and satisfying plant-based dish that's perfect for a quick and flavorful dinner. Enjoy!