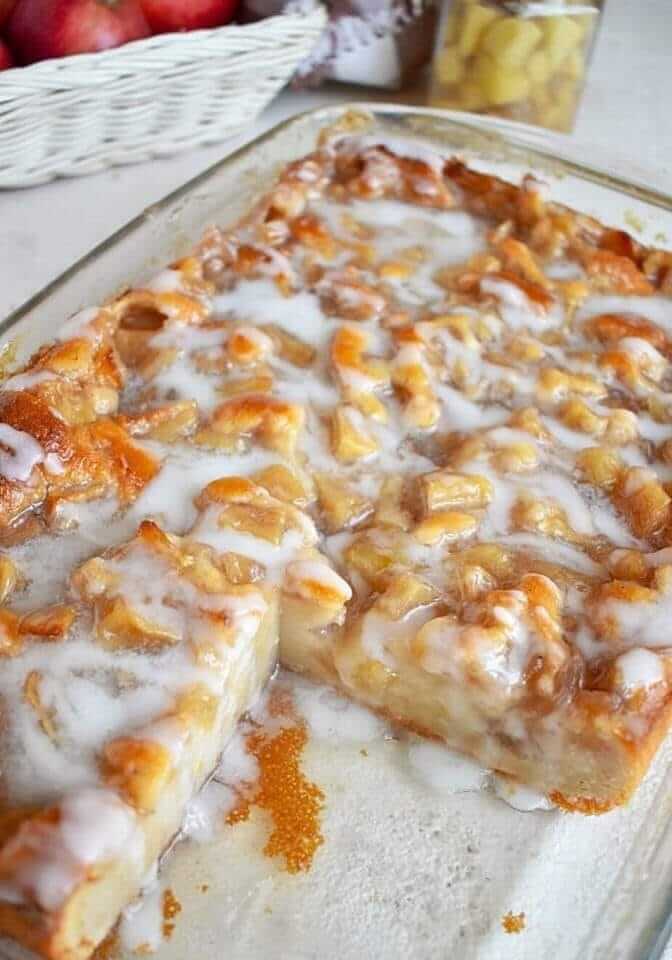 Apple Pie Filling Coffee Cake
Apple Pie Filling Coffee Cake
Apple Pie Filling Coffee Cake is a delicious dessert that combines the flavors of apple pie with a moist and tender coffee cake. It's a perfect treat for apple lovers and a great way to enjoy the classic flavors of apple pie in a different form.
Here's a basic recipe to make Apple Pie Filling Coffee Cake: Ingredients: 2 cups all-purpose flour 1 cup granulated sugar 1/2 cup unsalted butter, softened 1/2 cup milk 2 large eggs 2 teaspoons baking powder 1 teaspoon vanilla extract 1/2 teaspoon salt 1 can (21 ounces) apple pie filling For the streusel topping: 1/2 cup all-purpose flour 1/4 cup granulated sugar 1/4 cup unsalted butter, softened 1/2 teaspoon ground cinnamon Instructions: Preheat your oven to 350°F (175°C) and grease a 9×13-inch baking pan. In a large mixing bowl, cream together the softened butter and sugar until light and fluffy. Add the eggs, one at a time, beating well after each addition. Stir in the vanilla extract. In a separate bowl, whisk together the flour, baking powder, and salt.
Gradually add the dry ingredients to the butter mixture, alternating with the milk. Begin and end with the dry ingredients, mixing well after each addition. Spread half of the batter into the prepared baking pan. Spoon the apple pie filling evenly over the batter, spreading it out to the edges. Drop spoonfuls of the remaining batter over the apple pie filling and spread it as best as you can. It doesn't need to be perfect; the batter will spread as it bakes. In a small bowl, combine the streusel topping ingredients (flour, sugar, softened butter, and cinnamon) and mix with a fork until crumbly. Sprinkle the streusel topping over the cake batter. Bake in the preheated oven for about 35-40 minutes or until a toothpick inserted into the center comes out clean. Remove from the oven and let the coffee cake cool in the pan for about 10-15 minutes before serving.
You can serve the Apple Pie Filling Coffee Cake warm or at room temperature. It goes well with a scoop of vanilla ice cream or a dollop of whipped cream. Enjoy!