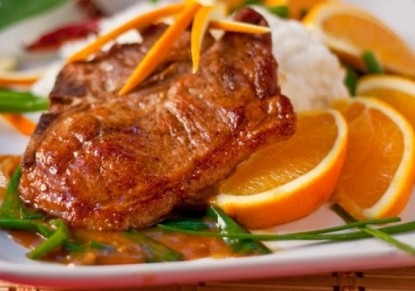 Beef casserole with orange zest
Beef casserole with orange zest Recipe
Ingredients
1 egg, lightly whisked
1 teaspoon garlic powder
1 teaspoon of red pepper
1 tablespoon of corn flour
500 g beef fillets, thinly sliced ​​(5 mm)
1 cup or 133g of cornmeal
½ cup vegetable oil, for frying
For the sauce:
2 cubes or 20g of MAGGI® Chicken Stock
½ cup or 125 ml water, hot
1 cup or 250 ml of orange juice
50 g zest of orange peel, thinly sliced
1 tablespoon of chili flakes
½ cup or 100g peach jam
1 tablespoon of oyster sauce
1 tablespoon of soy sauce
1 tablespoon of grated ginger, crushed
1 teaspoon of corn flour
¼ cup or 65 ml water, cold
4 medium or 50g hot peppers, sliced ​​and de-seeded
How to prepare
Combine eggs, garlic powder, red chili flakes, and cornstarch to form a whipped mixture. Add the veal slices and brush all together gently with the egg mixture. Cover with plastic wrap and leave to marinate in the fridge for 20 minutes.
Coat the meat with cornmeal and set aside for a few minutes. Then, fry well until it turns a little golden and put on kitchen paper to drain the excess oil from it.
In a medium saucepan, dissolve MAGGI Chicken Stock in 125ml of hot water then add orange juice, orange zest, chili flakes, peach marmelade, oyster sauce, soy sauce and ginger and bring to a slow boil. Then, mix the cornmeal with cold water and stir these ingredients with the sauce.
Pour the sauce into a hot oriental cooking pan and stir until thickened. Add the fried meat and finally the sweet chili slices.
Served with white rice and garnished with toasted sesame.