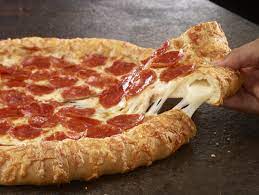 How to Make Stuffed Crust Pizza
the recipe stuffed crust pizza

Many people think that the origin of pizza goes back to Italy, but in fact its origin goes back to some eastern Mediterranean countries, and these countries are Turkey, Egypt, as well as Greece, and pizza was made by baking a piece of dough on a specific type of stone that is used In bread after it is heated, then other ingredients such as vegetables are placed on it.
The Italian soldiers brought pizza to Italy, and added tomato sauce and cheese to it, then its fame moved to America after the Italians immigrated to it, and with the passage of time, pizza became presented with more diverse ingredients, and in ways different from the traditional pizza that the world knows, and below we mention the way stuffed pizza works. the parties.
Pizza stuffed edges with cheese
Ingredients
Two and a half cups of all-purpose flour.
A package of instant yeast.
Small spoon of salt.
a glass of water.
Two tablespoons of canola oil.
Eight pieces of string cheese.
A quarter of a kilogram of large Italian sausage.
A medium sweet green pepper, cut into cubes.
A cup of tomato sauce.
A teaspoon of oregano.
¼ teaspoon of black pepper.
One-eighth teaspoon of garlic powder.
1 can of sliced ​​mushrooms, drained of liquid.
A cup and a half of mozzarella cheese.
How to prepare
Mix two cups of flour, yeast and salt in a large bowl.
Heat the water and oil in a deep frying pan at a temperature of one hundred and thirty degrees.
We add the ingredients in the first step to the pan, beat the ingredients until they become soft, add the rest of the flour to get a smooth dough, and leave it for five minutes to rest.
Roll the dough into a round shape, about fourteen inches thick, on a clean, floured surface.
Transfer the dough to a twelve-inch-deep tray, greased with oil.
Put the cheese strings on the inside edges of the tray, fold the dough over the cheese, and press it to seal it tightly.
Pierce the dough with a fork, and bake for ten minutes at a high temperature.
Cook the sausages, and sweet green peppers in a large skillet over a medium heat until the sausage turns brown, and drain the pan from the liquid.
Combine tomato sauce, oregano, black pepper, and garlic powder in a small bowl, and scatter over the edges of the dough.
Sprinkle the rest of the sausage mixture, mushrooms, and mozzarella over the dough.
Bake the pizza for a third of an hour, until the cheese melts, and the edges are golden.