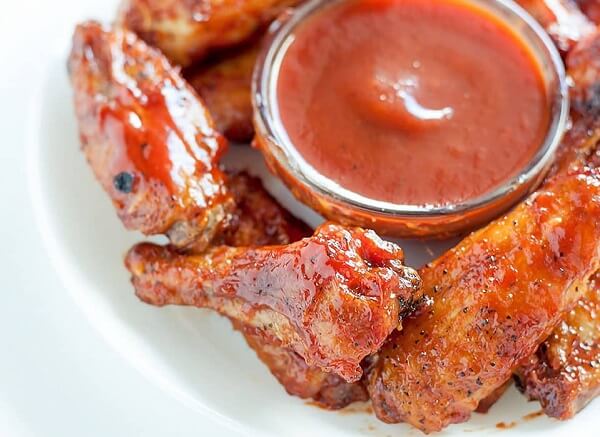 Chicken Wings With BBQ Sauce
Chicken Wings With BBQ Sauce recipe
Ingredients
1 kg chicken wings
1 teaspoon oregano
1 teaspoon garlic powder
½ teaspoon salt
½ cup starch powder
2 tablespoons oil
To prepare the BBQ sauce:
2 tablespoons oil
1 finely chopped onion
1 finely minced garlic clove
2 tablespoons brown sugar
1 tablespoon soy sauce
¼ cup vinegar
½ teaspoon red pepper
1 tablespoon tomato puree
½ cup ketchup
1 teaspoon mustard
1 teaspoon paprika
¼ teaspoon ground cloves
¼ spoon black pepper
1 teaspoon salt
1 cup water
1 tablespoon lemon juice
How to prepare
Put the wings in a bowl, add the oregano, salt, garlic powder, and stir.
Add the starch and stir it with the wings, then add the oil and distribute it well, then half the wings in a tray and put it in the oven at 180 degrees for 15 minutes.
In a pot over the fire, heat the oil and add the onion until it wilts, then add the garlic, then the brown sugar, and stir for a minute.
Add the soy sauce and stir, then add the ground red pepper, and then the vinegar.
Add tomato puree, ketchup, mustard, paprika, cloves, salt and pepper and stir.
Add the water and lemon juice, stir the ingredients until they mix well and leave them to boil for about five minutes.
Season the wings with barbecue sauce, arrange them in a tray, and put them in the oven for five minutes, so that the chicken absorbs the sauce completely.
We take out the tray and pour the wings into a suitable dish and it is ready to be served.