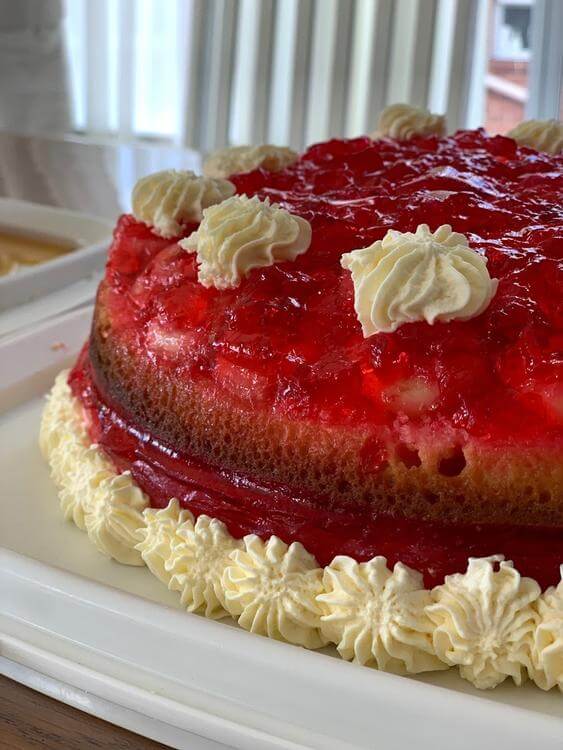 How to make a delicious cake with jelly and banana?
delicious cake with jelly and banana recipe
Ingredients
1 and ½ cup flour
½ cup room temperature butter
½ cup sugar
½ cup milk
2 eggs
1 tablespoon baking powder
1 teaspoon liquid vanilla
pinch of salt
3 bananas, peeled and sliced
2 packs of strawberry jelly
2 cups whipped cream
How to prepare
Preheat the oven to 180°C
In a deep bowl, put the flour, salt, baking powder and mix well
In another bowl, put the butter and sugar, and beat with an electric mixer until the consistency becomes creamy
Add the eggs and vanilla, and continue to beat until the eggs disappear
Add half the amount of flour with half the amount of milk, and mix well, then add the rest of the flour with the rest of the milk, and whisk again.
Pour the dough into a tray greased with butter and sprinkled with a little flour, and put the tray in the oven for 45 – 50 minutes until the cake is done
Prepare the jelly, as indicated on the package
Remove the cake from the oven, then water it with a little jelly, and arrange the banana slices on a tray similar to the cake tray
Pour the jelly over the banana, then put it in the fridge until it hardens
Put the cake on top of the jelly, then put it in the refrigerator for at least two hours before serving
Invert the cake in a serving dish, decorate it with whipped cream, then serve.