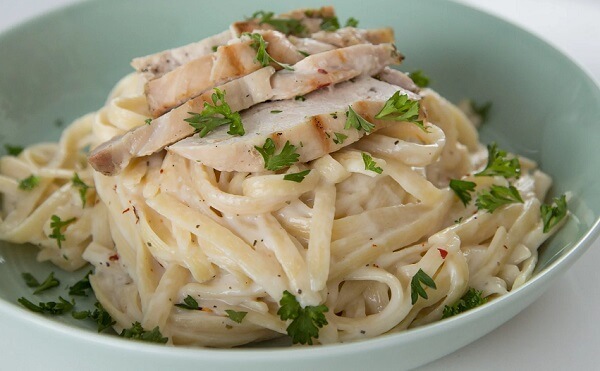 How to make fettuccine alfredo pasta ?
How to make fettuccine alfredo pasta ?
Ingredients: Pasta (fettuccine or any desired type) 2 tablespoons of oil A pinch of salt Boiling water For Alfredo sauce: 1 tablespoon of butter ¾ cup of heavy cream ½ cup of grated Parmesan cheese 1 teaspoon of garlic powder A sprinkle of black pepper Salt to taste Instructions: Cook the pasta in boiling salted water with a little bit of oil to prevent sticking, then set it aside. Melt the butter in a pan over high heat, then add the cream and stir until it boils. After boiling, add the Parmesan cheese and stir until it melts completely, then add the salt, black pepper, and garlic powder and stir on low heat until the sauce becomes thick. Place the cooked pasta on top of the sauce and stir until well combined, then let it simmer on low heat for a few minutes to absorb the flavor of the sauce. Put the pasta in a serving dish and garnish with parsley and grated Parmesan cheese. Serve hot.