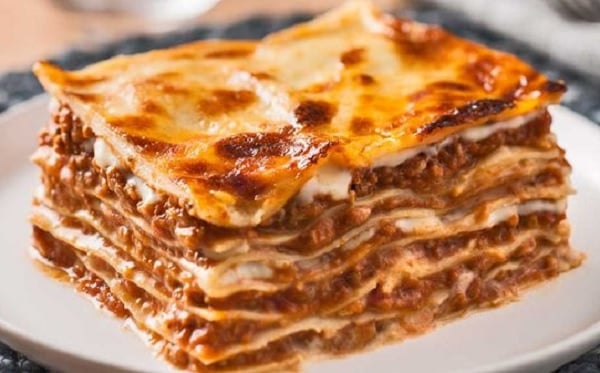 How to make lasagna with minced meat and bechamel ?
Lasagna with minced meat recipe
Ingredients
1 packet lasagna slices10 bunches spinach, chopped, washed and drained2 tablespoons oil1 chopped onion½ kilo minced meat½ teaspoon salt¼ teaspoon white pepper¼ teaspoon white pepper¼ kilo shredded mozzarella cheeseTo prepare the white sauce:2 tablespoons butter2 tablespoons flour½ teaspoon salt¼ teaspoon pepper½ teaspoon nutmeg1 and ½ cup liquid milk1 cup creamHow to prepareIn a frying pan, heat the oil and add the onion until it wilts.Add the meat, salt, white pepper and black pepper and stir until the meat is cooked.
In a second pan, put the butter and flour, stir, and add salt, pepper and nutmeg.Gradually add the milk, then the cream, while continuing to stir.In a Pyrex dish, pour an appropriate amount of sauce and distribute it in the dish, and place a slice of lasagna on top of it, then a layer of meat, then a layer of spinach, and on top of it a layer of mozzarella cheese.We continue to arrange the layers and distribute them evenly so that the cheese is the last layer.We put the dish in the oven for half an hour at 180 degrees so that our dish is ready to be served.