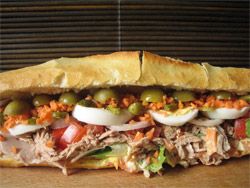 How to make tuna bocadillos with olives and cheese ?
How to make tuna bocadillos with olives and cheese ?
2 cans of tuna, drained from oil.
1 cup (200 g) boiled white rice.
A large potato, cut into small cubes and boiled.
3 large potatoes, peeled and cut into fingers and fried.
⅛ kilo (125 g) beef mortadella, cut into thin strips.
3 boiled eggs cut into rings.
½ cup (100 g) sliced ​​green olives.
Thinly sliced ​​lettuce.
2 medium-sized tomatoes cut into small cubes.
Medium onion cut into small cubes.
2 cloves garlic, crushed.
½ cup (100 g) small pickled cucumbers, sliced ​​lengthwise.
¾ cup (150 g) mayonnaise
¼ cup (50 g) ketchup.
One large carrot, peeled and grated.
2 tablespoons (25 g) pickled cucumbers, cut into small cubes.
2 tablespoons (25 g) chopped fresh parsley.
¼ cup (60 ml) white vinegar.
1 teaspoon (5 g) salt.
2 loaves of french baguette.
How to prepare bocadios with tuna
Put the onions in a bowl, add salt and vinegar, stir, then leave them for five minutes.
Wash the onions in running water, to get rid of the vinegar and salt, then drain them from the water, and set them aside.
Put the mayonnaise in a bowl, then add the ketchup, pickled cucumber cubes, parsley, garlic and three tablespoons of grated carrots, and stir well until the ingredients are mixed.
Open the bread with scissors, then remove the insides of the bread.
Grease the bread with the mayonnaise mixture, then distribute the tuna, then the rice, then the mortadella, then the egg rings, then the boiled potatoes, then the olives, onions, tomatoes, carrots, lettuce and pickled cucumbers, then close the bread well.
Cut the bread into three pieces, then place the sandwiches on a serving plate, and serve them with french fries.
Discard the bread if you want, and distribute the vegetables and rice in the serving dish next to each other, then put the tuna, mortadella and egg rings on top, then spread the mayonnaise sauce over the bocadios dish, and serve it as a salad dish on your dining table, and you can dispense with the rice as well, and be satisfied with the vegetables.