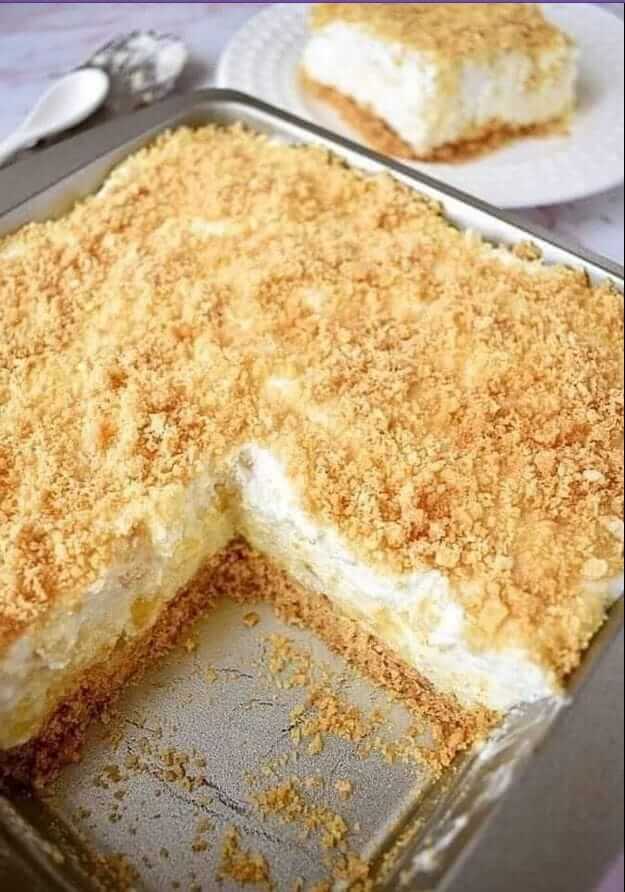 Pineapple Dream recipe
a delicious dessert: Ingredients: 2 cups graham cracker crumbs 1/2 cup unsalted butter, melted 1 cup powdered sugar 8 oz cream cheese, softened 1 (20 oz) can crushed pineapple, drained 1 (3.4 oz) package instant vanilla pudding mix 2 cups cold milk 1 (8 oz) container whipped topping (e.g., Cool Whip) Maraschino cherries for garnish (optional) Instructions: In a medium bowl, combine the graham cracker crumbs and melted butter. Mix until well combined. Press the crumb mixture into the bottom of a 9×13-inch baking dish to form the crust.
In another bowl, beat the powdered sugar and cream cheese until smooth and creamy. Spread the cream cheese mixture evenly over the crust. In a separate large bowl, whisk together the instant vanilla pudding mix and cold milk until thickened. Gently fold in the crushed pineapple into the pudding mixture. Spread the pineapple and pudding mixture over the cream cheese layer in the baking dish. Spread the whipped topping over the pineapple layer, covering it completely. If desired, garnish the top with maraschino cherries. Cover the baking dish with plastic wrap and refrigerate for at least 4 hours or overnight to allow the dessert to set.
Serve chilled and enjoy your delicious Pineapple Dream dessert! Note: Feel free to adjust the sweetness by adding more or less powdered sugar according to your taste preferences. You can also add some chopped nuts, such as pecans or walnuts, to the crust or sprinkle them on top for extra flavor and crunch.