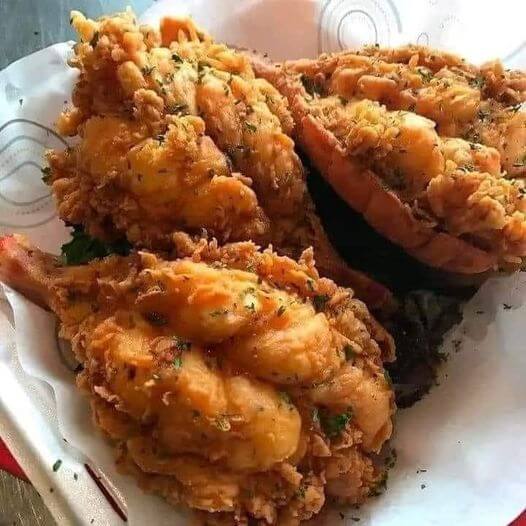 Southern Deep Fried Lobster recipe
Southern Deep Fried Lobster recipe
ingredients: 2 live lobsters (about 1 to 1.5 pounds each) 2 cups all-purpose flour 1 cup cornmeal 2 tablespoons Old Bay seasoning (or your preferred seafood seasoning) 1 tablespoon garlic powder 1 tablespoon paprika 1 teaspoon cayenne pepper (adjust according to your spice preference) Salt and pepper to taste 1 cup buttermilk Vegetable oil, for frying Instructions: Prepare the lobsters: Fill a large pot with water and bring it to a boil. Place the live lobsters into the boiling water and cook them for about 3-4 minutes. This will partially cook the lobsters and make it easier to remove the meat from the shells. Remove the lobsters from the pot and let them cool. Once cooled, remove the meat from the claws, tail, and body. Cut the lobster meat into bite-sized pieces.
Prepare the coating: In a shallow bowl, combine the all-purpose flour, cornmeal, Old Bay seasoning, garlic powder, paprika, cayenne pepper, salt, and pepper. Mix well to combine all the dry ingredients. Dip and coat the lobster: Pour the buttermilk into another shallow bowl. Dip each piece of lobster meat into the buttermilk, allowing any excess to drip off. R
oll the lobster in the flour mixture, pressing gently to ensure it adheres to the meat. Coat all the lobster pieces in the same way. Fry the lobster: Heat vegetable oil in a deep fryer or a large, deep skillet to 350°F (175°C). Carefully lower the coated lobster pieces into the hot oil using tongs or a slotted spoon. Fry the lobster in batches for about 3-4 minutes, or until the coating turns golden brown and crispy. Remove the fried lobster pieces from the oil and place them on a paper towel-lined plate to drain excess oil. Serve: Once all the lobster pieces are fried, transfer them to a serving platter. Garnish with fresh parsley or chopped green onions if desired.
Serve the Southern Deep Fried Lobster while it's still hot, with your favorite dipping sauces such as tartar sauce, cocktail sauce, or lemon aioli. Enjoy your Southern Deep Fried Lobster! It's a delightful dish that brings together the best of seafood and Southern cuisine.