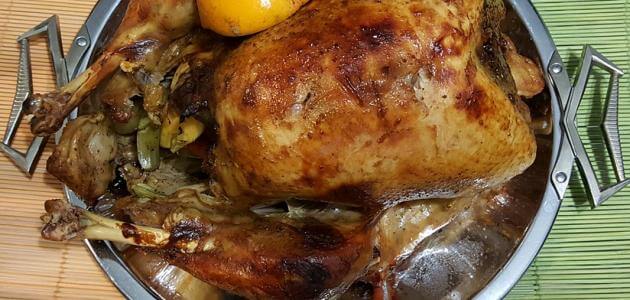 The easy way to get a juicy Roast Turkey
The easy way to get a juicy Roast Turkey
Ingredients
Turkey Ingredients:
Turkey.
A carton of yoghurt.
Two tablespoons of mustard.
Two tablespoons of ketchup.
Two chopped onions, soaked in a cup of water and drained.
The juice of two lemons.
A tablespoon of vinegar and olive oil.
An amount of salt, pepper, and spices as desired.
Quarter of a teaspoon of ground cinnamon.
Rice Ingredients:
Four cups of basmati rice.
A tablespoon and a half of sugar.
Onion small in size and not chopped.
Four cups of water.
Two cubes of chicken broth.
A quantity of spice, cinnamon, and salt to taste.
A quarter cup of vegetable oil.
A quantity of each of raisins, and roasted nuts, to decorate the face.
How to prepare
Mix the yoghurt, mustard, ketchup, water, onion, lemon and vinegar, in addition to the oil.
We flavor it with salt, pepper, mixed spices, and cinnamon, and stir the ingredients well.
Wash the turkey well, extract the liver and keep it aside.
Brush the chicken with a little marinade, then put it in a tray, and pour the rest of the marinade on it.
Cover the tray, and put it in the refrigerator overnight.
Pour a quarter cup of water over the marinade, then cover the face of the tray with tin foil, making some holes in it.
Roast the turkey in a preheated oven at a temperature of no less than two hundred degrees Celsius for at least two and a half hours.
Remove the tin foil, and put the tray back in the oven until browned.
Put the sugar in a saucepan over a medium heat until we have a caramel.
Heat the oil in another saucepan on the stove, then add the onion and saute until it wilts.
Add the liver, stir well with the ingredients, then add these ingredients to the sugar.
Add the rice, and stir the ingredients together until well combined.
Pour water, two cups of chicken broth and chicken broth into the rice.
We flavor it with salt, pepper, and cinnamon, and leave the mixture on the fire until all the liquids have dried, and the rice is cooked.
Pour the rice into a serving dish, serve it alongside the turkey, and garnish it with nuts and raisins.