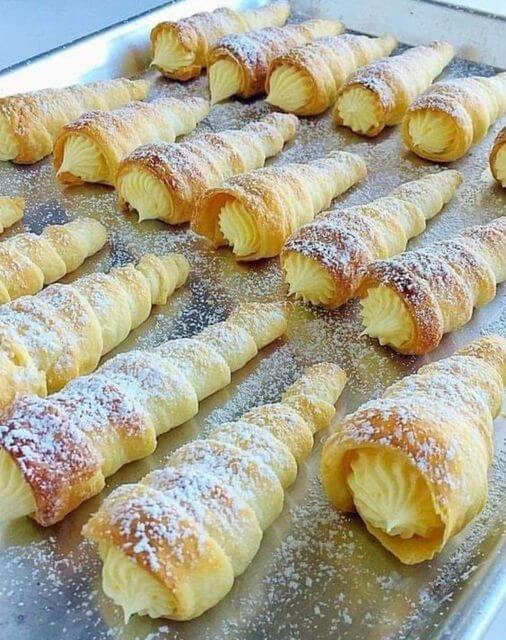 Italian Cream Stuffed Cannoncini:
Italian Cream Stuffed Cannoncini:
Ingredients: 1 package of puff pastry sheets (thawed) 1 cup of heavy cream 1/2 cup of mascarpone cheese 1/4 cup of powdered sugar 1 teaspoon of vanilla extract 1/4 cup of chopped nuts (such as almonds or hazelnuts) Powdered sugar for dusting Instructions: Preheat your oven to 400°F (200°C). In a mixing bowl, combine the heavy cream, mascarpone cheese, powdered sugar, and vanilla extract. Whisk them together until you have a smooth and creamy filling.
Roll out the puff pastry sheets on a lightly floured surface. Cut the pastry into long, narrow triangles. The width of the triangles should be around 2 inches. Take each triangle and gently stretch it a bit, making it slightly longer.
This will help with rolling and stuffing. Spoon a dollop of the cream filling onto the wider end of each triangle. Sprinkle some chopped nuts on top of the filling. Starting from the wider end, roll up each triangle, gently but firmly, to create a cone shape. Make sure the pointed end is tucked underneath to secure the filling. Place the stuffed cannoncini on a baking sheet lined with parchment paper, leaving some space between each one. Bake in the preheated oven for about 15-20 minutes, or until the cannoncini are golden brown and puffed up. Once baked, remove the cannoncini from the oven and allow them to cool completely on a wire rack.
Once cooled, dust the cannoncini with powdered sugar. Serve and enjoy your delicious Italian Cream Stuffed Cannoncini! These cannoncini are best enjoyed fresh on the day they are made. They make a great dessert or sweet treat for any occasion. Buon appetito